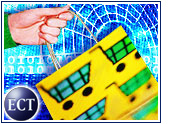 In a move that highlights the convergence of Web search and online shopping, Yahoo has announced plans to buy European comparison-shopping site Kelkoo for about US$575 million in cash.
France-based Kelkoo, which operates in nine European countries, uses a shopper-referral model that will fit well with Yahoo's paid-search and referral program, CEO Terry Semel said.
"Commerce has emerged as a key component of search," Semel said. "The combination of Web search, product search and comparison shopping will help further Yahoo's goal to create the most comprehensive and best user experience on the Web."
Reaching Out
Semel said the site will give Yahoo another way to help marketers reach consumers.
Yahoo cited data showing Kelkoo reaches about 10 percent of all European Internet users and counts some 2,500 individual merchants among its paying customers. The site enables shoppers to compare prices on approximately 3 million products in 25 categories, such as books, movies, music, mobile phones, travel services and electronics.
Status Quo
Kelkoo, which is privately held, venture-backed and has been profitable for more than a year, is seen as fitting well with another of Yahoo's fairly recent acquisitions, Overture Services, a pioneer in the paid-referral search world.
Yahoo said it intends to keep all 250 of Kelkoo's workers in place and run the business as a stand-alone subsidiary for the time being, with current CEO Pierre Chappaz retaining his role.
Clearly, Yahoo sees growth potential in the European market, where Forrester Research predicts online shopping revenue will rise from $40 billion this year to $167 billion within five years.
Eyeballs and Paying Customers
IDC analyst Melanie Posey told the E-Commerce Times that Yahoo is seeking to build up two sides of its business at the same time, gaining additional users for marketers to reach while also picking up a solid base of existing marketing customers.
While Yahoo and other Internet companies still have largely segregated worldwide business units, their advertising customers are increasingly interested in leveraging the Web's global reach. "Yahoo can now say to the biggest advertisers — companies like Coke and GM — that they can reach deeper into their key audiences," Posey said.
Another potential point of synergy is that in the race for search-engine supremacy, Yahoo has taken a straight line toward commerce. Last fall, the company said it had broken down the wall between its search properties and its shopping sites, citing data showing that the majority of online shoppers start by using a search engine.
Playing to Strengths
That strategy could pay huge dividends for Yahoo, though it probably will not be enough to distance it from rivals like Google, Piper Jaffray analyst Safa Rashtchy told the E-Commerce Times.
"Google's advantage is in technology, and Yahoo's lies in the fact that they've got longer, deeper relationships with more advertisers," he said.
Rashtchy said that, by his estimates, search alone now generates some $4 billion in revenue for leading companies, including Yahoo and Google — an amount that could triple over the next four years as Web search strengthensits position as one of the most important Internet niches.