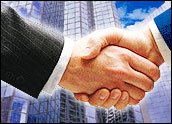 Yahoo and Facebook are ending their patent infringement lawsuits against each other with a settlement that includes a licensing partnership as well as an expanded content distribution and advertising relationship.
The new agreement allows for collaboration on ad campaigns during major media events. However, the pivotal part of the agreement is the settlement of the original patent disputes through cross-licensing.
Facebook and Yahoo did not respond to our requests for further details.
Yahoo Threw First Stone
The tussle over patents began in March when Yahoo seemingly blindsided Facebook with a lawsuit alleging that it had infringed 10 patents on technologies related to digital advertising, website functions, website personalization, social networking and messaging. Yahoo demanded licensing fees in its suit.
Yahoo has about 1,000 patents in its portfolio, including 60 or so that originally belonged to Overture Services, which Yahoo acquired in 2003.
Yahoo's legal filing was met with widespread scorn, as it was widely deemed to be an easy way to pick Facebook's pockets. The social media giant was prepping for its IPO at the time, and it did not seem likely that it would have the heart for a protracted legal struggle during that crucial period.
However, Facebook responded with a countersuit in April, one month before it went public. It alleged that Yahoo infringed on several of its patents, one of which was on a technology developed by CEO Mark Zuckerberg. Facebook's IPO filings revealed that it had 774 patents in the U.S. and 96 patents in foreign markets.
A Very Active 4 Months
Much has happened to both companies since the spring. Yahoo's former CEO, Scott Thompson, was accused by a shareholder of fabricating his CV. He eventually stepped down, after announcing he was ill. Facebook suffered through the ignominious flop of its IPO.
In June, Yahoo's attorneys in the U.S. court for the Northern District of California filed legal documents indicating that the two sides were in negotiations to settle their disputes.
Not If but When
Given the stakes — and the vast uncertainty that comes with litigation — it was almost a case of when, not if, Yahoo and Facebook would settle this dispute, Peter S. Vogel, a partner with Gardere Wynne Sewell, told the E-Commerce Times.
Few companies will take a litigate-or-die stance with patents, especially when there are so many other approaches that can be beneficial, he said.
Several years ago, for example, Dell had a patent for selling computers on the Internet, Vogel recalled. It eventually licensed the patent to IBM and received licenses in exchange that allowed it to manufacture its computer boards more economically.
It made sense for Yahoo and Facebook to take the opportunity to build their advertising relationship, he continued. "This happens often in a settlement — businesses see the opportunity to cross-license other technologies as well."
Mutually Beneficial
Without more details, it is difficult to say whether either company came out ahead, but it's likely the agreement did not skew heavily in favor of one side or the other, said David Johnson, principal of Strategic Vision, as the stakes were considerable for both.
"Facebook really needs to show that its advertising platform has reach and merits brands spending money on it," he told the E-Commerce Times, "especially now, as GM is making noises that it wants to reinvest in Facebook."
More than ever, Facebook wants to show that its advertisers will see a benefit from its platform, and to that end, every bit helps, Johnson said.
Yahoo's position is perhaps more dire, he suggested. Facebook will survive with or without Yahoo, but Yahoo needs to make improvements or it will almost certainly fall by the wayside.
"If Yahoo can't point to any signs of success in the near term," cautioned Johnson, "it will further the narrative that Yahoo has become inconsequential."