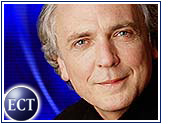 Yahoo! announced Wednesday that it will replace Tim Koogle as chief executive officer and that it is lowering its guidance for the first quarter ending March 31st.
Koogle will stay on as chairman, the company said.
Yahoo! said it expects first quarter revenues to be between US$170 million and $180 million, and that net income will be approximately breakeven. Previously, Wall Street analysts had been expecting $232 million in revenue and profits of 5 cents per share.
"All businesses in the United States are facing challenging economic conditions that have weakened further in recent weeks," Koogle said, "and as consumer confidence and spending has deteriorated, a broad range of customers have delayed their spending across all media formats until their economic outlook improves."
Day of Speculation
The announcement, which came after markets closed, followed a halt on the trading of the company's stock that lasted nearly the entire day.
Investors and analysts alike began to learn that a major announcement was forthcoming after the Nasdaq halted trading of the company's stock at 9:37 a.m. EST. Before trading was halted, the company's stock had fallen $1.44 to $20.94.
Speculation on the contents of Yahoo's announcement hit full steam after influential Merrill Lynch analyst Henry Blodget said in a research note that Yahoo! had canceled a scheduled Thursday appearance at a Merrill Lynch Internet conference.
"Yahoo! has unfortunately had to cancel its appearance at our Internet conference [Thursday]," Blodget wrote. "To our knowledge, Yahoo! has never canceled the day before a conference. As a result, it seems prudent to review the usual reasons that lead to such cancellations."
Possible explanations for the cancellation, speculated Blodget, included a restructuring, an acquisition of another company by Yahoo!, the acquisition of Yahoo! by another company, a management change, or an earnings-outlook announcement.
Calm During Storm
Despite the lowered guidance, Koogle expressed confidence in the company's future and said he believes the company's core assets will help it weather the storm and emerge a stronger company.
Koogle pointed out that Yahoo's user base, the number of page views, and the amount of time spent per user are continuing to grow.
Koogle also said that he would stay on as CEO until the company found a replacement.
Exit This Way
The imminent departure of Koogle, who has been with the company since 1995, is the latest in a string of management changes at Santa Clara, California-based Yahoo!. Last week, the managing director of Yahoo! Canada, Mark Rubinstein, stepped down.
Rubenstein's departure followed the February departures of Fabiola Arrendondo, head of Yahoo's European operations and Savio Chow, vice president of Yahoo! Asia.
Takeover Rumors
Talk of a takeover attempt has swirled around the company since March 2000, when it was rumored that eBay and Yahoo! were discussing a merger. Later speculation linked the company with Viacom, Disney and News Corp.
Adding fuel to the speculation fire was a stockholder rights plan adopted by the company last week.
Yahoo! said the plan was "designed to deter coercive takeover tactics, including the accumulation of shares in the open market or through private transactions, and to prevent an acquirer from gaining control of Yahoo! without offering a fair and adequate price and terms to all of Yahoo's stockholders."
At the time, the company insisted that the plan was not developed in response to "any effort to acquire control of Yahoo!."
Revenue Avenues
In a bid to make itself more attractive to investors and analysts alike, Yahoo! has been working in recent months to diversify its revenue sources and decrease its dependence on online advertising.
Actions taken by the company include the decision to charge listing fees for online auctions, the move to sell placement in its directory, and an expansion into Australian markets.
"Trying to diversify away from advertising is the right thing for Yahoo! to be doing," Morningstar.com analyst George Nichols told the E-Commerce Times recently. "But they're moving into new territory, where they may have less expertise, so there are plenty of execution risks."