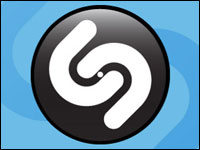 Shazam on Monday announced that former Yahoo executive Rich Riley will be its new CEO as the song identification app company prepares to launch an IPO.
Riley will take over for Andrew Fisher, who had been the company's CEO since 2005. Fisher will remain at Shazam as the executive chairman. The company also recently snagged the BBC's Daniel Danker as a chief product officer, putting in place a fresh team of leaders in anticipation of a public offering.
Riley, once chosen for Fortune's 40 Under 40: Ones to Watch, was most recently executive vice president for the Americas at Yahoo. Fisher praised Riley's experience with the global consumer Internet business and said he looked forward to working with him at Shazam while the company works to drive more consumer engagement.
Shazam did not respond to our request for further details.
From Song IDs to M-Commerce Hot Spot
Since its start in 2002 as a song identification app, Shazam has expanded into a platform where users can purchase songs, take part in studio promotions for free downloads, or receive additional information about several kinds of digital entertainment.
In 2011, the company launched a TV companion app. Along with identifying the music being broadcast, the app gave users access to mobile-optimized content, social media chatter, curated Web content and links to shop for previous episodes or show-related merchandise.
Shazam now has a database of 27 million tracks to help its 300 million users identify songs. The company will continue to expand that reach as it prepares to go public, according to the new executive team.
That's an impressive growth record, said Michael Wolf, founder and chief analyst at NextMarket Insights. The company was able to recognize its mobile commerce opportunities, such as making it easier for users to directly purchase songs or TV shows. What's more, it has been able to capitalize on the increasing number of users that are watching TV with a smartphone or tablet in hand.
"The company was smart to recognize that it's core technology could be used for automated content recognition, which is a key building block for social TV and second screen," he told the E-Commerce Times. "By moving into this market, they open up a whole new addressable market for both licensing their technology as well as Shazam-branded apps."
That market is going to be increasingly important going forward in the digital entertainment business, said TripChowdhry, senior analyst for Global Equities Research.
"People are not just sitting down and watching TV anymore," he told the E-Commerce Times. "They are looking at their smartphones or iPads and wanting to know everything about what's happening on the other screen. That is where the opportunities exist for the companies that can be innovative about the way they are reaching consumers."
Shazam's Future Growth
Shazam will still need to convince investors it has a sustainable plan to continue growing, said Wolf. Shazam's competition from apps like SoundCloud won't go away, and the company has to show it can keep its users, most likely by offering exclusive features.
"They probably still have the most brand recognition in the original space they helped create, but I think it will be increasingly hard to compete in the music recognition space," he noted. "I think their best bet is looking at licenses as well as develop products for all those markets that need broadcast interactivity, media syncing and audio fingerprinting."
Investors will want to see a plan that includes profitability and quarterly projections. However, that shouldn't be Riley's entire focus, said Wolf. To ensure Shazam can avoid the path of some of its technology peers before launching an IPO – namely, enjoying truckloads of hype and a sky-high valuation only to tank upon market debut – it needs a creative plan that anticipates which markets have the greatest opportunities.
"Clearly numbers matter, but from a strategy standpoint the company needs to show they have a concrete plan they can execute on to take Shazam into new markets with large addressable opportunities," he pointed out. "They've started to do that with social, but they need to expand those efforts."