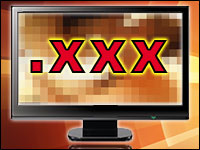 It was with mixed emotions that Rick Singer, CEO of GreatApps.com, bought his first .XXX domain name.
As a small businessperson, he was happy that his company had progressed to the point where its brand needed to be protected. At the same time, GreatApps is, as the name suggests, a software company, not an adult entertainment operation.
"It's one thing to invest in a domain because you are anticipating growth," Singer told the E-Commerce Times. "It's another to do it because you feel you have to. I don't want to have to worry about having to fight for our brand and image down the road because I didn't spend the money to buy this domain."
Singer is hardly alone. With ICANN's latest top level domain now available — the red light .XXX domain — companies from all sectors are grabbing real estate to keep their trademarks from being used as the destination for an adult entertainment website.
Indeed, based on anecdotal reports, it appears that sales of the .XXX domain are brisk, fueled in large part by companies snapping them up for defensive purposes. This has inspired at least one group, Morality in Media, to call on Congress to pass a law requiring that any would-be purchaser of a .XXX domain first get the permission of any holder of the same name in the .com, .net or other established domains.
Not Part of the Vision
This rush to claim .XXX names by companies such as GreatApps is not what ICANN first envisioned for this new TLD.
A controversial proposal from the start, the .XXX domain was meant to carve out a protected enclave for adult sites to protect children from inadvertently stumbling on them. It would make monitoring easier for parents and any monitoring software they might have installed on their computers.
It was also meant to tap into the multibillion dollar online adult entertainment business as well, of course. Warnings by some companies that trademarks of companies in other industries would need to be protected were voiced, but apparently not loudly enough to make an impression on ICANN.
Mad Scramble
Now, here we are. The business community has been acutely aware of the risks, B. Andrew Plant, managing member of Plant Communications, told the E-Commerce Times — and brand holders were doubly displeased when ICANN didn't make the process of securing their trademarks for the .XXX domain any easier.
"There was a lot of marketplace confusion as various outlets tried to pre-sell or otherwise reserve domain names with that extension. Most such offers were at most just ways to connect with potential customers and maybe sell them additional domain names," Plant recalled.
If ICANN didn't want to put in place a requirement along the lines of what Morality in Media is suggesting, it could have done something to make the process easier, Singer suggested. "What about automatically offering owners of .com or .net domain names a .XXX domain name for a nominal fee, such as (US)$10?"
Indeed, what Singer found most irritating of all throughout this process was having to cough up $99 to pre-reserve his company's name before .XXX domain sales began.
Will Congress Step In?
Companies shouldn't wait for Congress to act, attorney Erik Pelton of Erik M. Pelton & Associates, told the E-Commerce Times — because it probably won't, at least not specifically on the .XXX domain name issue.
First of all, brand owners have already invested in protecting their brands in the .XXX space, he said. Also, "Congress has its sights set on potentially addressing a larger domain name issue — ICANN's planned rollout in 2012 of new global top level domain names that can take any form, such as '.brand.'"
Morality in Media and ICANN did not respond to our requests to comment for this story.