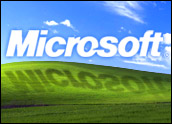 Following a month of testing at no cost to customers, Microsoft's Windows Azure platform will become a paid service on Monday.
The Azure platform is a set of cloud computing services that can be used together or independently on a pay-per-use basis. Originally unveiled in October 2008, the service has been free for customers during the month of January in order to let them experience the service and get an idea of how pricing will work.
Starting on Monday, any incurred costs will become reality, and users can choose from two basic pricing models. A pay-as-you-go "consumption" option offers compute time starting at 12 US cents per hour, storage at 15 cents per month for each gigabyte stored and storage transactions for 1 cent per 10,000 transactions, while a "commitment" model offers lower rates in exchange for a six-month obligation.
'A Natural Fit'
"We've certainly seen that developers are one of the hottest constituencies for cloud computing, and that makes this a natural fit for Microsoft because there's such a large universe of developers using its Visual Studio products," Dana Gardner, principal analyst with Interarbor Solutions, told the E-Commerce Times.
"Microsoft had seen them using other cloud offerings to do their testing and deployment functions, so it makes a lot of sense for them to come in with their own cloud and to start it as a free service," Gardner added.
Some of the value for developers is that "in doing builds or load balancing or load performance types of tests, all of a sudden they need a tremendous amount of compute power, then they don't," Gardner explained. "If they do it themselves internally, they have to provide all the infrastructure, services and setup for the highest mark, but then have them underutilized for much of the time."
Clouds, on the other hand, are elastic, and thus are "great for spinning up resources and then spinning down," he added.
Microsoft's pay-per-use model, meanwhile, could mean developers can "save a lot of money," Gardner pointed out.
Included in the Azure platform is Windows Azure, the cloud services operating system that serves as the platform's development, service hosting and service management environment . Windows Azure provides developers with on-demand compute and storage to host, scale and manage Web applications on the Internet through Microsoft data centers.
SQL Azure, meanwhile, is a relational database for the cloud, while AppFabric makes it simpler to connect on-premises applications with the cloud by offering identity management and firewall-friendly messaging for secure connectivity and messaging between on-premises IT applications and cloud-based services.
How Am I Doing?
As part of the process of readying Azure for commercial use, Microsoft recently launched MyGreatWindowsAzureIdea.com as a forum for user, developer and partner feedback.
Microsoft has already simplified the pricing on its AppFabric component based on feedback from the CTP process, it said.
Top among the user requests posted on the new site are making the service less expensive for small-scale applications and keeping it free for use by developers.
Microsoft has "been very receptive to customer feedback," Rob Sanfilippo, research vice president of developer strategies and tools with Directions on Microsoft, told the E-Commerce Times.
The company made numerous changes based on customer feedback during 2009, Sanfilippo noted, including retooling the SQL Azure component.
"With Azure, there's going to continue to be, for at least the short term, very close monitoring of customer feedback and response to that with the service offerings," he said.
Such tweaks and enhancements will likely continue over the next two to three years to keep Azure competitive with other offerings, such as those from Google and Amazon, Sanfilippo added.
A Matter of Trust
As for the pricing model, "I think Microsoft is really testing the waters here," Gardner opined. "I am fully secure that whatever the pricing is, it's going to change. Not only that, but there will be competitive effects as well," as other providers roll out their own offerings.
" If you get developers to use your cloud, chances are they will deploy in that cloud too," Gardner pointed out.
Looking ahead, however, there's still a trust issue to be overcome, he added.
"While developers are content to do certain things in a public cloud, like load balancing, they're still reluctant to put their source code in the cloud," Gardner noted. "Microsoft not only needs to price this right, but it needs to demonstrate that users' intellectual property is safe in Azure."