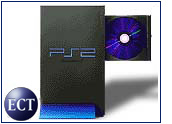 While still years from unveiling its next-generation game console, Sony apparently plans to make PlayStation 3 a gateway to the Internet and a means to leverage the company's far-flung entertainment holdings.
Company executives have already begun to talk up the PS3 upgrades, though the product is not expected to hit the United States until 2004 — not to mention the fact that some U.S. consumers are still waiting to receive a PlayStation 2.
Nevertheless, published reports Tuesday indicated that online banking and shopping are already part of the blueprint for PS3.
A company spokesperson told the E-Commerce Times that any talk of PS3 is premature, with demand for the PS2 console still red-hot. In fact, an apparent shortage of PS2s created a traffic crunch on many e-tail sites and caused a spate of fraudulent sales during the holiday shopping season.
Spokesperson Jamie Tica also pointed out that the PS2 console now on the market can be hooked up to a separate modem to enable Web access.
PS2 Ready for Web
However, in a recent Scientific American article, Sony Computer Entertainment's Ken Kutaragi said that Sony sees the game console as a way to create traffic for Sony's entertainment divisions, which include motion picture and television studios and a music label.
The move could help Sony create the type of cross-channel media powerhouse formed when the merger of America Online (AOL) and Time Warner was approved earlier this month.
In fact, the Asian Wall Street Journal reported recently that AOL has long been engaged in talks with Sony about using Sony's gaming products to gain access to Asian consumer markets.
Those behind-the-scenes talks, which have reportedly been under way for nearly a year, are aimed at merging AOL software with the PS2 console. AOL has made no secret of its desire to gain a stronger foothold in Asia, where Sony's products are market leaders.
Well-Worn Path
The idea of using game consoles as low-cost Internet-access vehicles is not a new one. Sega, which is heavily rumored to be backing off the game-making business, began offering an Internet-ready game console in 1999.
Meanwhile, Nintendo's newest GameCube, which will be unveiled in the U.S. later this year, will also feature a 56K modem and limited Internet features. Microsoft is also entering the game console race with its own Internet-ready device, known as the X-Box.
Upside Potential
Overall, Sony may have the most to gain from using its game machines as Internet gateways. While the PlayStation is made by Sony Computer Entertainment, the Japanese parent company controls Sony Entertainment, which includes Sony Pictures, Sony Music and Columbia TriStar Entertainment, the maker of many popular TV shows.
Because they are cheap and already in millions of homes around the world, game consoles are seen a potential linchpin in getting more people to use the Web.
Forrester Research analyst Jeremy Schwartz said it has been clear since before the launch of PS2 that Sony's agenda "transcends games."
Schwartz commented that the success of the far-reaching Web plan will depend on the partnerships Sony forms with other technology players and content providers.
Experiences for Sale
Meanwhile, another Forrester analyst, Paul Jackson, noted that one of every three homes in Europe is equipped with a game device. While behind personal computers in terms of penetration, game machines are ahead of other non-PC Internet devices.
"Other technologies can learn from the game console success," said Jackson. "They're selling experiences, not just technology."