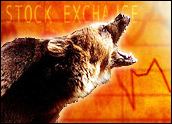 Prior to Tuesday, there were still a few investors optimistic that tech stocks would remain the proverbial safe haven. It was a reasonable stance, given that the focus of responsibility for the mounting economic troubles in the U.S. has been the housing market.
Then Apple — which routinely surpasses analyst expectations — released its sobering outlook for the second quarter. Granted, its projected revenue of US$6.8 billion represents a 29 percent year-over-year gain. However, analysts had been forecasting revenues of $6.99 billion.
With just a few grim sentences, Chief Financial Officer Peter Oppenheimer crushed whatever remaining expectations there were that tech company valuations would remain stable.
Q4 Underway
Yes, it's that time of year again — reporting season. Microsoft — the largest tech company by market value — is due to report on Thursday. Next week, SanDisk is reporting on Monday, Yahoo on Tuesday, SAP Wednesday morning, and Amazon Wednesday afternoon. This time, investors will be parsing the forward-looking statements for 2008 as eagerly as they analyze the actual results.
How Google performs — its earnings are coming out next week — will be a bellwether for Web 2.0 and Internet performance for the next three to four months at least, Rick Munarriz, a senior analyst at The Motley Fool who specializes in technology and Internet issues, told the E-Commerce Times.
"Companies like Apple and Google — if they flop, then what hope do the peons [in the tech community] have?" Munarriz asked.
Downward Trend
The good news is that analysts currently expect the technology companies within the S&P 500 to post total earnings of $4.18 — almost 10 percent higher than in the third quarter — said Fred Ruffy, an analyst with the investor education firm Optionetics.
"The bad news is that $4.18 in total operating earnings also represents a 2.8 percent decline from a year ago," he told the E-Commerce Times. "In addition, analysts expect further declines in the first and second quarters of 2008, before seeing a rebound in the second half of 2008. For the fourth quarter 2008, analysts currently expect the technology companies from within the S&P 500 to post earnings of $5.18, which is almost 24 percent above the expected earnings for the fourth quarter 2007."
Danger Ahead
The danger is that the earnings expectations for the second half of 2008 are too high and will be guided lower, Ruffy explained, with Apple's earnings as exhibit A.
"Although Apple posted fiscal first-quarter earnings and revenues that easily topped analyst estimates, the stock tumbled 10.65 percent after the company lowered guidance for the second quarter," he noted. "On the same day, Motorola fell 18.75 percent after warning that a rebound in the mobile device business is taking longer than anticipated."
eBay is also trading lower after providing in-line guidance for 2008 Wednesday afternoon, Ruffy noted.
Cherry-Picking the Winners
Not that the entire sector should be dismissed — or abandoned, said Alan Lancz, president of Alan B. Lancz & Associates, and editor of The Lancz Letter.
"I think there are certain areas of tech that never got overvalued, such as IBM or EMC," he told the E-Commerce Times.
IBM is very diversified with a solid customer portfolio, while EMC has developed a great position in network storage, along with a nicely growing segment of the Internet security market, Lancz observed.
"These companies are still trading at or near historical low valuations," he commented. "IBM, for instance, is still at a reasonable multiple compared to Apple or RIM."
Greater Economy
Of course, there will always be winners and losers in any sector, but Munarriz pointed to the greater impact a weak tech sector could have on the economy overall.
"With every passing year, tech becomes a bigger part of the economic engine," he said. "In the old days, a bellwether stock might have been Phillip Morris or Kodak. Today, it is just as likely — more, actually — to be a Google or Apple."