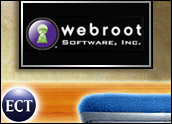 The Software as a Service (SaaS) concept is rapidly spreading to touch almost every functional area in the IT stack. The latest example is security vendor Webroot's acquisition of Email Systems, a SaaS security provider.
Primarily focused on consumer and SMB (small and medium-sized business) markets prior to this merger, Webroot's newly acquired SaaS functionality will allow the company to better target the enterprise space.
Email Systems "has focused on building a strong tech base protecting against spam initially and then around Web security in Europe," Webroot CEO Peter Watkins told the E-Commerce Times.
Protecting Enterprises
Its enterprise bona fides are strong as well, he added. "It protects more than 1,500 businesses and 2.5 million e-mail boxes worldwide and filters and scans more than 1.2 billion messages per month."
The companies did not disclose terms of the agreement; however, both businesses will continue to operate within existing market spaces in the near term, they said. Webroot will retain all current employees and will continue to support the company's channel-led model.
Starting in December, Webroot will offer on a limited basis to certain customers a new Email and Web Security SaaS product that provides e-mail archiving, image scanning and encryption, antispam, antiphishing and antivirus services for protecting e-mail, HTTP Web filtering and other Web-based communications.
In January, it will make the product generally available on a rolling basis. This SaaS-based e-mail and Web management, protection and compliance product can be integrated with the Webroot AntiSpyware Corporate Edition with AntiVirus end-point protection product — a multi-layered hybrid approach to security, according to the firm.
Next-Gen Delivery Mode
Watkins said that that SaaS channel will be the delivery mode of choice for the next generation of security tools. It is more flexible and adaptable than the traditional hardware and server based perimeter of earlier security applications, he said."Studies have shown that the form of delivery in security technology will grow by 100 percent or more."
IDC, for instance, expects that worldwide spending on hosted messaging security services, which totaled $300 million in 2006, will reach $1.4 billion by 2011. "As a security solution, we anticipate seeing an increase in hybrid models that include both an on-premise and a hosted security service," said Brian Burke, program director of security products at IDC.
"SaaS is a disruptive technology that we've seen grow to dominate business applications and expect to see the same with security," agreed Neil Hammerton, CEO of Email Systems. "The combination of Webroot's global support, the delivery to a far broader audience through our expanded channel reseller network, and our latest product release soon to be announced, we feel like we are poised to take full advantage of a technology sea change."