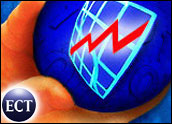 WebMethods (Nasdaq: WEBM) rose US$1.40 to $27.85 in morning trading Monday, after the company said it will provide the software for the ConsumerConnect e-commerce unit at Ford (NYSE: F).
Financial terms of the agreement were not disclosed. WebMethods said it will provide a "comprehensive platform to integrate applications with the extended Ford enterprise."
WebMethods added that it will help Ford connect its joint ventures with its internal application and mainframe systems, allowing the company to "centralize data to create a single view of the customer," allowing real-time access to the information.
WebMethods' third quarter results, reported in February, topped analyst expectations, with revenue soaring 237 percent from a year earlier.
Income before special charges for the quarter ended December 31st totaled $2.7 million, or 5 cents per share, compared with a loss of $15.5 million, or 82 cents, in the year-earlier quarter.
After acquisition and other charges, the company posted a net loss of $12.7 million, or 27 cents per share.
WebMethods said it added 85 new customers during the quarter, bringing the total to more than 500. The company now serves customers including Bank of America, Cargill, Cisco Systems and Fidelity Investments. The company also expanded overseas during the quarter, with new shops in Japan, Singapore and Taiwan.
WebMethods has also been forging alliances with other providers of business-to-business (B2B) integration software. Last month, WebMethods announced a deal with i2 Technologies (Nasdaq: ITWO) that includes giving i2 the right to purchase a stake in the company.
WebMethods, which went public in February 2000 at $35 per share, has seen its stock trade as high as $194.88 and as low as $14.38 over the past year.