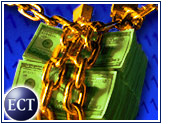 Months after the slowdown hit the U.S. economy, a consensus has failed to materialize on which came first: the dot-com shakeout chicken or the economic downturn egg?
"The implosion of tech companies and the evaporation of their funding is more a symptom of the economic slowdown than a cause," Bob Austrian of Banc of America Securities told the E-Commerce Times.
On the other hand, Morningstar.com's Joseph Beaulieu does believe that the dot-com shakeout had a causal effect, even if it cannot take all the blame for the overall economic slowdown.
Beaulieu said that while the country was on an economic upswing, consumers saw the value of their stocks and 401k plays skyrocketing, and so felt more comfortable about spending money.
However, as tech stocks — along with more traditional stocks — began losing value, and layoff announcements began filling the nightly news, "consumers began watching their wallets," Beaulieu said.
"A lot of individuals were second-guessing major purchases," he said.
Disbelief Disease
Many observers remain shocked at just how far tech stocks have fallen. For example, one of e-tail's most famous names, Amazon.com (Nasdaq: AMZN), slid from an all-time high of $113 in December 1999 to a 52-week low of $8.10 on April 4th.
Other companies, whose shares were once in the hundreds, have simply disappeared.
"Part of what's causing havoc for tech stocks, is that they've never been through a recession," Forrester group director of research John McCarthy told the E-Commerce Times.
McCarthy said that the tech industry reached the level of maturation where it was no longer being treated with "kid gloves" and was subject to the same cycles as the rest of the economy.
License to Lose
This reality check curtailed the free spending attitude that many dot-coms adopted when the New Economy was in its infancy.
"For a while, some dot-coms seemed to have been given a license to lose money," Beaulieu said. "However, over the past year, there has been a lot of pressure on dot-coms to become profitable."
Beaulieu added that last year, some tech stocks were overvalued. Austrian agreed, saying that "the expected value of the Net as a distribution channel contributed to overbuilding."
However, in another close call on which came first, it may have taken the tumbling stock prices to force companies to address overcapacity and prune staff.
Wallet Clutching
Ultimately, disintegrating tech-heavy stock portfolios may have contributed to an overall economic decline by causing consumers to be tighter with a buck, which in turn caused major companies to hold off on making large purchases.
"CEOs are very cautious about signing big contracts, "Beaulieu said. "I can't say where the breakdown began. But clearly it's a process that feeds on itself."
Even so, there is evidence that the economic downturn came before the high-tech stock plunge. One of the more dramatic signposts of the economic slowdown came in December, when one of the country's biggest retailers, Montgomery Ward, announced it was shutting its doors for good after more than 100 years in business. And the roots of Montgomery Ward's demise were laid long before dot-coms began to dive.
In any case, numbers released March 29th by the U.S. Department of Commerce confirmed the economy's condition. The data showed that the U.S. economy grew by a rate of 1 percent during the final three months of 2000, the lowest growth rate in five years.
The Next Wave
By the time that the U.S. economy recovers, it is likely that the face of the Internet will have changed significantly, as more and more companies realize that the Internet's value is not as a sole distribution channel, but rather one trade channel in a multichannel e-commerce strategy.
"We're seeing a lot more effort from traditional companies to move into the Internet," Beaulieu said, noting as an example that JC Penney, long a traditional retail powerhouse, is becoming one of the most successful online retailers.
In the meantime, the economic slowdown is not over.
"The economy has some getting worse to do before it gets better," Austrian said.