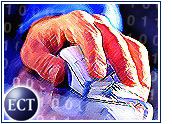 A pressing question for e-tailers this year is whether consumer apprehension about the overall economy is going to cause a drop in online spending.
So far, Internet purchasing levels have increased steadily year after year. But with consumer confidence hovering near a low, could 2001 be the year that Web shopping falls off the map?
The answer, according to some analysts, is that e-tailers can remain upbeat, even when consumers are not.
"It is still possible to attract people in this environment because the number of new households starting to buy online for the first time is still growing … especially customers who may already be online and haven't made a purchase yet," Forrester analyst Christopher Kelley told the E-Commerce Times.
All Attitude?
In fact, this month, e-tailers can breathe an additional sigh of relief. For the first time in six months, according to numbers released Tuesday, the monthly consumer confidence index from The Conference Board rose — jumping to 117 after having fallen to a 4 1/2-year low in February.
The Conference Board index, based on a monthly survey of some 5,000 U.S. households, is considered a key economic indicator because consumer spending accounts for about two-thirds of U.S. economic activity. The index compares results to its base year, 1985, when it stood at 100.
According to Lynn Franco, director of The Conference Boards Consumer Research Center, the index measures the current attitudes and future expectations — but not the actual purchases — of the survey respondents.
"The general tendency is if confidence is high, consumers are more likely to spend, which obviously would benefit those companies in the e-commerce area," Franco told the E-Commerce Times. "If consumers are apprehensive, they tend to curtail their spending."
No 'Biggies'
However, even if the index's March rise is a fleeting one, analysts do not feel that consumer apprehension necessarily translates into a drop in the dollar volume of online purchases.
According to Franco, pessimistic consumers may be more likely to steer away from certain types of online purchases in a period of low confidence, while increasing other types of purchases.
"They are more likely [to avoid buying] the non-necessities or big-ticket items," Franco said. "The smaller item purchases wouldnt be hit as hard or as soon."
Bear Stearns financial analyst Jeff Fieler said that while big-ticket sellers like auto sites may not see customer conversion rates drop off in times of low confidence, they will see less overall consumer interest.
"I think it's not as big a factor from a purchase point of view — but to the extent that over half the people buying cars are researching them online first, you're going to see less traffic to those sites," Fieler said. "The largest items that are probably impacted online are discretionary items like tourism, particularly travel and airfares."
Waiting Game
What can e-tailers do to keep afloat in times of customer uneasiness? Not much, said Franco.
"Consumer confidence is greatly affected by labor market conditions, and the high-tech sector is undergoing dramatic changes in labor conditions right now, so confidence is lower in that sector than in other industries," Franco said. "It's a matter of waiting for the economy to stabilize."
Other analysts believe that during a period of low confidence, e-tailers have a golden opportunity to capture new buyers.
Instant Gratification
"This may be the perfect opportunity for retailers to say, we know you haven't tried this yet, but if you really look, we can give you a great deal," Kelley said. "I think that the Web offers consumers what they need right now."
According to Fieler, however, the fate of e-tailers in the coming months may depend to a large degree on where the rest of the economy is headed — and what U.S. Federal Reserve Chairman Alan Greenspan does with interest rates.
"Rate cuts affect the macro environment," Fieler said. "To the extent that rate cuts are successful in limiting the downside and hastening the speed at which we comeback from the slowdown, that benefits online commerce players to the exact same magnitude."
March Madness?
To be sure, not too many e-tailers are going to be disappointed by the March consumer confidence index rise.
The Conference Board said that 15.4 percent of consumers surveyed in March expect an improvement in business conditions, an increase from 11.3 percent in February.
While in February, the percentage of consumers anticipating that business conditions would worsen increased from 15.2 percent to 17.8 percent, that percentage fell back in March to 13.6 percent.
Gray Skies Clearing Up?
The employment outlook was also more favorable in March, according to The Conference Board. Currently, 12.2 percent of consumers expect more jobs to become available, up from 10.8 percent in February. Those expecting fewer jobs to become available declined from 26.5 percent to 20.1 percent.
Income expectations, however, did not improve. Only 23.2 percent of consumers believe their paychecks will improve, down from 23.9 percent in February.
According to Franco, the recent weakness in the stock market "has done little to dampen either consumers assessment of present economic conditions or future expectations."