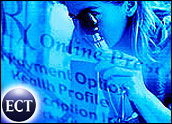 WebMD (Nasdaq: HLTH) reversed an early morning gain to trade down 68 U.S. cents at $8.37 Wednesday, after reporting a narrower loss for the first quarter and announcing a partnership with AOL Time Warner (NYSE: AOL).
The company, which provides health information and services over the Internet, said its loss in the quarter ended March 31st, before restructuring and other charges, narrowed to $32.7 million, or 9 cents per share, from $73.0 million, or 42 cents, in the year-earlier quarter. Analysts had expected a per-share loss of 11 cents.
WebMD posted a net loss of $1.04 billion, or $2.91 per share, compared with a year-earlier loss of $431.5 million, or $2.47. Latest-quarter results included charges for a restructuring and the integration of acquired companies, as well as a $133.5 million non-cash charge for the write-off of intangible assets associated with a restructured Microsoft deal.
Revenue for the quarter ended March 31st rose to $184.5 million from $65.9 million in the same period last year. WebMD said it expects "continued improvement" throughout the current year as it continues to "refine" its restructuring plan.
Also Wednesday, WebMD said it formed an alliance with America Online that makes it the primary provider of health-care content, tools and services across AOL sites including AOL, CompuServe and Netscape.
WebMD will also create a co-branded personalized health service for the sites, featuring news, health assessment and monitoring tools, communities and newsletters. The companies said they will also work together to give users the ability to communicate with their doctors, health plans, pharmacies and other health-care providers.
WebMD will begin providing its services later this month, with the program set to be in place by the end of the year. The companies said they will collaborate on advertising, commerce and programming for AOL's health channels, and will share revenue from the ventures.