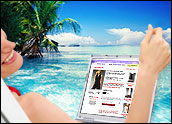 Political Web sites abound on the Internet. A recent visit to just a few of them turned up a couple of polls asking variations of the question whether Dick Cheney should be impeached for violations of several U.S. laws.
Personally, I would have loved to have seen the results of the polls, which I enthusiastically answered more than once. However, both the fact that a) I won't see the results, and b) I did my best to skew the them, albeit in fun, point to something more fundamental about the polls than their mere existence.
In the space of only a few years, lures at e-commerce sites — such as polls, puzzles, trivia questions, games and video clips — have become mundane for most Web site visitors. Certainly, in their eyes, they are nothing to be taken seriously. However, Web sites and their advertisers are dead serious about the effectiveness of these extras.
Sleight of Hand
As e-commerce firms invest heavily to develop Web 2.0 and Web 3.0 generation content, the development of unique advertising-related content has lagged.
"Polls are a sleight of hand on most Web sites," Richard Laermer, coauthor of Punk Marketing and CEO ofRLM PR, told the E-Commerce Times. "They are not very good and completely unscientific."
Usually, like questions about Cheney and Paris Hilton, for instance, they are merely designed to get people's attention.
The good news is that some Web sites are approaching their advertising-related content in a more thoughtful manner, taking into account the likelihood that today's Web users are far more content-savvy than those of the previous online generation — or pre-Internet consumers in general.
Their approach is to provide content that is of real value to visitors. Following are a few emerging best practices is this area.
Be Resource-Centric
Many Web sites are turning themselves into resource centers, Laermer noted.
"Rather than the site post content about itself or content that is thinly disguised as news but is meant to really sell the company's products or services, smart sites are putting up content that is of true value to users — without any thought of whether it will sell something," he said.
These "clearinghouse methodologies," explained Laermer, "can encompass anything from an article about how to avoid Internet fraud to potential write-offs for home-based businesses."
Create Communities
Increasingly, Web sites are creating their own social networking platforms to bring together customers, said Brent Leary, a CRM consultant and host of the Internet radio showTechnology for Business Sake.
This entails building site functionality that fosters vendor-customer communication as well as customer-customer communication, he told the E-Commerce Times. "Customers and prospects can use the vendor's site to share best practices and experiences on how to successfully use the vendor's products or services."
Online gaming communities such asXbox Live are the ultimate examples of this phenomenon, he said.
Inviting community members to play key roles in the development of products also engenders meaningful interaction with customers. Sites can easily generate 'stickiness," Leary said, "by letting them submit product ideas, letting the full community vote on the ideas, and having the best ideas created and marketed back to the community, with the [person who generated the idea] sharing in the profits created."
Threadless is a great example of this, he said. It designs and manufactures T-shirts based on the results of an ongoing shirt design competition that allows anyone to participate. If a design gets a high enough score and is chosen by the Threadless crew, it is printed on shirts that are then sold on the site.
Keep Visitors Engaged
Ideally, these content extras can have the same effect as a food court in a shopping mall, said Sean MacPhedran, director of creative strategy at Fuel Industries, an interactive agency/game developer that focuses on online branded entertainment.
"A food court encourages people to stay in the mall longer — and they buy more," he told the E-Commerce Times.
"Mini-amusement parks have found their way into several shopping malls — increasing time spent in the malls, and thus 'conversion rates' when even more time leads to additional sales," MacPhedran pointed out.
"Malls are also designed to confuse a consumer's sense of time. 'Keep them longer and they will buy more' seems to be a pretty obvious lesson from the real world; however, there still needs to be a clear conversion funnel for those who are actively looking to buy," he said. In short, content isn't going to be for every user.
MacPhedran points to a mandate the firm received from Fox Home Video when it was about to launch the direct-to-video feature-length "Family Guy" DVD. Fox asked Fuel to raise awareness of the DVD launch online using nontraditional media to support its overall TV and print campaign.
Interactive Stewie
It created an animated character for its Web site taken from the show, called "Interactive Stewie." It then used flash animation to create approximately 40 primary animation and 130 lip syncs using audio tracks from the show, including Stewie practicing to kill his mother and Stewie pretending to take over the world. "He'll also eat, fart, dance and, of course, make love to a pig," Fuel's Web site proudly states. (If you have never watched the show, you wouldn't understand.)
It's a very atypical scenario, MacPhedran admits, but it does qualify as an e-commerce site, since one of the goals is to drive online purchases of the DVD.
"When we tweaked a very isolated variable — quality of entertainment outputs — our engagement time increased, and so did the click-through rate to learn more [or] purchase," he said.
What that particular case led Fuel to believe, MacPhedran explained, was that — assuming all "conversion funnel elements" remained the same — consumers who stayed on a Web site longer would be more likely to respond to a call to action during that period.