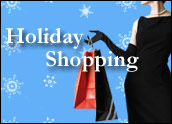 Traditional retailers plan to offer steep discounts, longer store hours and other incentives this week, hoping to lure shoppers into malls and stores to salvage a shopping season during which the lion's share of gains has been seen in online sales.
The International Council of Shopping Centers said today that most retailers are on pace to post low single-digit sales increases for the season, with department stores seeing a 2 percent sales bump, luxury retailers up nearly 5 percent, and discounters like Wal-Mart and Target up as much as 4 percent.
Consumer Confidence Online
By comparison, online sales through the first six weeks of the holiday season — the week ending Dec. 9 — were up 16 percent over the same period last year, according to the Goldman, Sachs & Co., Nielsen//NetRatings and Harris Interactive Holiday eSpending report released today. That report showed sales were at US$18.6 billion since the beginning of November.
Consumers are increasingly finding the names they recognize online, which is boosting sales. "The combination of well-known brands and retailers in the top categories strongly complement and drive online sales, because consumers trust and have confidence in both," said Heather Dougherty, senior retail analyst at Nielsen//NetRatings.
Nearly 20 percent of U.S. consumers have not yet started their holiday shopping, and 44 percent have yet to finish, the eSpending survey found.
That last-minute rush may tilt the scales back in favor of brick-and-mortar retailers as online shoppers will find the window to purchase goods and have them arrive in time for the holiday weekend — especially using free shipping promotions — will close early this week at many e-tailers' sites.
Decking the Malls
At Amazon, for instance, the option of using standard free shipping on purchases and receiving the item by the weekend ends on Wednesday. As in past years, analysts believe online sales will slow as Christmas approaches.
Meanwhile, traditional retailers are hoping that incentives will fill their stores with buyers in the coming days. Though mall operators say they have seen significant foot traffic, stores say sales are not as strong as they would like.
Macy's plans to keep its East Coast stores open until midnight starting Tuesday, and Sears is featuring a sale with many items being discounted more than 50 percent.
Online sales, which shoppers love for the convenience and the ability to avoid crowded parking lots and malls, inevitably start to dry up as shipping deadlines approach, said Forrester Research analyst Carrie Johnson. Though many retailers will send items with rush delivery to arrive as late as Saturday, which is Christmas Eve, those options often cost extra.
"Free shipping is one of the reasons that online shopping has enjoyed the surge in popularity that it has," Johnson said. "If you take that away, a powerful incentive is removed, and shoppers may opt to battle the traffic."
The Clock Is Ticking
Despite concerns that high gas and home heating costs would put a damper on some shoppers' spending plans, Forrester has predicted a 25 percent jump in online sales for the holiday season.
After a banner holiday season, online sales had a considerable drop-off in the first quarter of 2005, Johnson noted. Gifts cards are another factor said to be depressing sales this holiday season, since the cards are not considered sales until they are redeemed, and those redemptions take place largely in traditional stores.
Online retailers are getting better at maximizing their seasons, said Nielsen//NetRatings' Dougherty. With disastrous holiday performances now a distant memory, consumers increasingly trust online stores to deliver — even late.
"As online retail continues to mature as a sales channel, shoppers are provided the luxury of waiting to make holiday gift purchases until the last couple weeks of the season," she said. "Online retailers are extending shipping deadlines later each year, which provides ample time to comparison shop for the best deal."