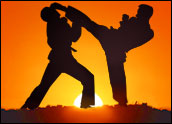 A coalition of firms that oppose a settlement reached last year between Google and some representatives of the publishing industry over its Google Books project is growing. New members now reportedly include a troika of Web giants: Amazon, Microsoft and Yahoo.
The coalition, called the "Open Book Alliance," is backed by groups opposing the court settlement that Google reached last October with the Association of American Publishers and the Authors Guild. Other groups include Internet Archive and Consumer Watchdog.
The members of Open Book Alliance will be formally disclosed over the next couple of weeks, Peter Brantley, a director at the Internet Archive, has told reporters. Brantley did not return a call to the E-Commerce Times.
If the reports are accurate, it would represent significantly more pushback against Google, which may have thought the major challenges to its goal of scanning and placing online millions of books from library collections — many of which are still under copyright — ended when it settled a suit with the two (then) main antagonists to its project.
Book Scanning Project
The saga started some three years ago when the Association of American Publishers and the Authors Guild filed a lawsuit against Google to shut down its book-scanning project — or at least get compensation for copyright holders.
Last October, Google reached a US$45 million settlement agreement with the two groups in which it would establish a database through which authors may register works, approve the license of the works through Google, and collect royalties.
That settlement, however, was somewhat controversial; one criticism was that the plaintiffs in the case represented only some of the authors of works that Google would eventually publish in its Book Search project.
Other criticisms focused on the supposed monopoly Google would have over the online database of books. It was likely this issue that prompted the government to take a look at the agreement.
Earlier this year, the Department of Justice alerted the parties that it would be investing the agreement, which is still pending in the court.
Striking a Nerve
Parties to the agreement have defended the deal they struck.
"We believe the settlement has enormous benefits for publishers, scholars, researchers and the general public," Association of American Publishers spokesperson Judy Platt told the E-Commerce Times. "It'll give access to published works that, right now, researchers can only dream about."
Advocates of the agreement — including Google itself — say the Open Book Alliance is merely a group of competitors worried that a savvy tech company is getting too far ahead.
The settlement is injecting more competition into the digital books space, which is why Amazon, Microsoft and Yahoo are fighting against it, said Gabriel Stricker, a Google spokesperson.
"Ask yourself, who is opposing the settlement?" Platt said. "These are all competitors of Google, which did what they didn't do and negotiated an agreement with us — an agreement that is not exclusive, I might add."
Fight Over Out-of-Print Books
It is interesting that such a fuss would be kicked up over an agreement that largely covers books that have been out of general circulation for some time, Eric J. Karson, associate professor of marketing with Villanova School of Business, told the E-Commerce Times.
"Most of what Google is digitizing now is out of print and inaccessible to most people — not to mention, off their radar. Funny that now there is a fight over doing it," he said. The sad part is that no one even knows whether there is any positive revenue associated with these "long tail" types of publications, he added.
To be sure, Google is not approaching this endeavor from an entirely altruistic standpoint, Karson pointed out. "I believe competition is always good, but might it be more important to broaden the access to all work? Is Google doing this because they think they can profit from it, or because they can? To some extent, I think it is the latter."
A collective might be one possible happy compromise, Karson said. "These digital rights — and potential but unlikely profits — can be shared to further the goal of universal access to published works," he concluded.