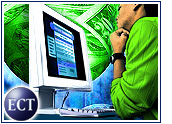 According to its main financial backer, Valassis Communications (NYSE: VCI), online coupon provider Save.com will cease operations due toinsufficient funding and a lack of advertisers.
Valassis, the largest shareholder of Save.com, said that it pulled the plug on the Los Angeles-based company Wednesday, due to the site's "inability to garner a critical mass of advertisers" interested in an Internet coupon vehicle. As of Thursday, however, the site was apparently still in operation.
Save.com, which did not respond to press inquiries Thursday, provides online coupons on its site and those of its affiliate partners that could be printed out and redeemed in stores.
"A Web site that attracts consumers who are deal-seekers does not appeal to manufacturers," Forrester research director Rob Rubin told the E-Commerce Times on Thursday, "because the people who search the Web for deals are not brand-loyal. They're out to get the best deal they can (regardless of brand)."
Unbeatable Odds
Launched in June 1999, Save.com was banking on the likelihood that consumers would collect online coupons on the site, and tried building a network of affiliate sites where its coupons could also be downloaded.
Aside from a souring advertising market, Save.com was also saddled with a sparse population of receptive consumers. Only 8 percent of the 58 million U.S. online households actively search the Internet for promotions, according to a Forrester report.
"The current advertising industry recession, combined with the decline of so many Internet investments, has caused a general skepticism about Internet advertising," said Valassis chairman, president and chief executive officer Alan Schultz. "This made itdifficult for us to see a clear path to profitability for Save.com."
Bucks Beat Brands
Save.com's users — consisting of the small pockets of consumers who do scour the Web for coupons — were not concerned with brand, suggested Rubin. They werethrifty shoppers, pure and simple.
Manufacturers likely avoided Save.com because they typically issue coupons to lure brand-conscious customers who will later buy their products at premium prices, added Rubin. Online coupons simply do not deliver this type of customer to manufacturers,said Rubin, thus short-circuiting Save.com's revenue model.
Not surprisingly, of the heavy online promotion users, 90 percent clip newspaper coupons and 81 percent use direct-mail coupons, according to Forrester. For Save.com, the lack of brand loyalty in online deal-seekers became an insurmountable impediment to growth, Rubin said.
Web Can Work
However, the Web is by no means a wasteland for promotions, according to Forrester. On the contrary, the Web can be effectively woven into offlinepromotions, like traditional coupons and sweepstakes.
"Without building the Net into promotions, manufacturers lose opportunities to inexpensively re-market to consumers and reduce fulfillment costsassociated with promotions," stated the Forrester report.
Survey Says
While purely Web-based coupons may be a tough model toprove to investors and advertisers, Forresteridentified two key opportunity areas where integratedpromotion campaigns might be successful: food-relatedsites and e-mail.
By Forrester's count, 21 percent of online householdsdownload recipes from the Web, and more than 60percent have visited recipe sites at least once.
Further, 70 percent of households would like toreceive special offers like coupons via e-mail.
Stay the Course
Valassis will continue its long-terminterest in Internet coupons with a small passiveinvestment in Coupons.com.
"We believe that shareholder resources can be betterinvested in areas where the model is more proven,"said Schultz.