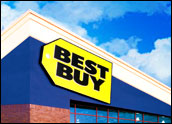 Best Buy's fiscal third-quarter profit fell 29 percent, surprising analysts and retail observers who had been expecting stronger results. For the quarter ended Nov. 26, the electronics retailer posted a profit of US$154 million, or 42 cents a share. In the same period a year earlier, it reported a profit of $217 million, or 54 cents a share.
Its revenue for the quarter rose by 1.7 percent from the same period in 2010, to $12.1 billion, with a comparable store sales gain of 0.3 percent. However, analysts had been expecting $12.14 billion in revenue.
There were some bright spots in the report, namely that the company reiterated its full-year guidance of $51-$52.5 billion in revenue.
In addition, Best Buy's Q3 figures showed strength in its Black Friday performance.
"Online sales, in fact, were up," said David Cadden, a professor of management in the school of business at Quinnipiac University, with the domestic online channel delivering a 20 percent revenue increase compared to the prior-year period.
"I think Best Buy may wind up doing well for the rest of the year," Cadden told the E-Commerce Times.
In part, Best Buy's Q3 woes were due to macroeconomic trends not in its control, he argued. The international segment of comparable store sales declined, in large part because of fiscal issues in Europe, which is impacting consumer confidence there.
Still, optimism for the retailer's future may put Cadden in the minority. Overall, its numbers were downright gloomy.
Best Buy did not respond to our request for further details.
A Changing Model
It may be that Best Buy's Q3 performance reflects fundamental shifts in retailing that are trending against the chain.
Right now, the company is being negatively impacted by a combination of factors, noted Don Mayer, CEO of Small Dog Electronics. Some of these have been long-brewing, such as the decline in the big box retail model.
In general, big box retailers — led by Walmart — are starting to build smaller stores for several reasons. They are also closing locations that are not performing well.
This trend will continue as more consumers seek out better service experiences with their electronics purchases, said Mayer. "The Best Buys of the world are unable to give the level of service that a lot of consumers want. That is why they go to smaller, local retailers such as Small Dog."
Other trends that are hurting Best Buy are also impacting smaller retailers such as Small Dog, he noted. For example, consumers who know exactly what hardware they want tend to go directly to the source, such as Apple.com or Dell.com, he said.
Then there are the manufacturers themselves, which increasingly are holding more and more of the margins, squeezing resellers out.
"That trend is making business more difficult for everyone," Mayer said.
The Amazon Factor
The most immediate danger to Best Buy's bottom line, though, is the ever-growing e-commerce trend — led by Amazon, said Jeff Edelman, director of retail and consumer advisory services for McGladrey.
"The in-store consumer electronics sector is suffering because of e-commerce," he told the E-Commerce Times. "In the case of Best Buy, many people say it basically serves as Amazon's showroom."
This trend was highlighted in the backlash voiced against Amazon's recent Price Check mobile offer: On Dec. 10, any consumer who checked a price while shopping in a physical store got an additional 5 percent discount from Amazon's price in certain categories, including electronics.
Differentiate Yourself
Best Buy's problem is that there is no one category in which it clearly excels over other retailers, Edelman said. It is not the lowest-price retailer, because Amazon and other etailers don't collect sales taxes on many purchases — yet — and they usually offer free shipping for high-priced items.
It is not the top in service — smaller, local retailers usually trump that category.
"Even Geek Squad is available to anyone for a fee," Edelman said. "You no longer have to buy something at Best Buy to use their services."