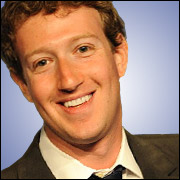 Facebook founder and CEO Mark Zuckerberg defended his company Tuesday and outlined plans for growth in the mobile space in his first public appearance following Facebook's botched IPO and stock plunge.
Since Facebook's debut on the public market in May, its value has halved and investors have worried the world's most popular social network can't sustain growth without more concrete business goals, particularly in mobile.
Eye on the Future
Zuckerberg acknowledged the stock's performance so far has been "disappointing," but pointed to more long-term goals for the company that would be able to sustain growth. He reiterated that the overall goals of the company weren't necessarily to increase the stock value, but, that in 10 or 20 years, "the legacy of this company should be that we've connected everyone in the world and that everyone can share all the stuff they want."
It was Zuckerberg's first public appearance post-IPO. The young founder has been both criticized and praised for having an attire and attitude unlike that of most CEOs of multi-billion dollar companies. On Tuesday, he appeared in his standard T-shirt and jeans, and defended Facebook's business plan in a casual, if sometimes rapid-fire, way.
"He was speaking so fast, which can make investors uncomfortable," Trip Chowdhry, senior analyst for Global Equities Research, told the E-Commerce Times. "He needs to understand how to take the right pulse of all the right stakeholders, and it's not clear that he's doing that."
Going Mobile
Zuckerberg did attempt to ease investor's concerns about the social network's mobile presence. Competitors such as Google and even Twitter — with years more of experience — have infiltrated mobile ads with greater success than Facebook. On Tuesday, though, Zuckerberg said that's changing, and many tech analysts including Brian Carter, Internet marketing expert, agree that the social network could seriously up its mobile ad presence going forward.
"I think Facebook, if sponsored NewsFeed posts grow, has more mobile potential than Google," Carter told the E-Commerce Times. "I think Facebook needs to make mobile sharing easier. Likes are easy, comments require typing (which is not as easy on mobile), but sharing usually doesn't show up as an option. That would limit the viral spread of any sponsored newsfeed post."
Zuckerberg also addressed the long-standing rumors that Facebook is developing its own smartphone to compete with the iPhone or Android models. Zuckerberg squashed the rumors, saying it was better for the company to be present on all smartphones, in the form of an app, rather than on only its own.
Those apps, he said, are only going to get better, revealing that Facebook is working to improve both its iOS and Android apps.
Facebook did not respond to our request for comment on the story.
Lofty Goals
The company's stock price got a small boost after the speech, rising about 3 percent in after-hours trading and still trading up going into Wednesday afternoon. While investors seem to be at least temporarily convinced Facebook can remain relevant in the evolving online social space, Chowdhry wasn't as bullish on the stock, saying Zuckerberg's lofty goals of connecting the world don't necessarily equal revenue.
"Facebook is a powerhouse in terms of noise," he said. "But being a powerhouse means having a very sustainable business plan for monetization. Nothing Zuckerberg said Tuesday was very exciting in that area. It's been mediocre on the stock market now and unless the company comes up with something exciting it's going to stay that way."