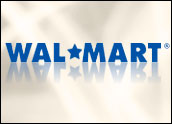 Wal-Mart has changed its logo. It's sprucing up many of its stores with new looks. Now, the world's largest retailer is expanding its online sales channel, adding a trio of carefully selected third-party vendors to its Web site in a bid to increase sales.
WalMart Marketplace debuted Monday, offering 1 million products from three partners:CSN Stores, which sells home and baby products, toys, sporting goods and shoes; eBags, which sells handbags, backpacks and similar items; and ProTeam.com, which sells licensed sports apparel and collectibles.
Not Earth-Shattering
The move is likely to boost Wal-Mart's sales and profits, but isn't likely to turn the e-commerce world on its head the way the retailer's rise to dominance upended the entire brick-and-mortar supply chain, said Sucharita Mulpuru, Forrester Research's principal e-commerce analyst.
Wal-Mart's move into third-party sales isn't likely to pose a direct challenge to Amazon, which dominates the online space the way Wal-Mart dominates the brick-and-mortar space, Mulpuru told the E-Commerce Times. The company's online sales lag far behind other retailers in terms of percentage of the overall business.
"I don't think they'll make Amazon quake in its boots or anything," she said.
Instead, it will help Wal-Mart shore up weaks spots in its portfolio.
"This is essentially an extension of its drop ship model but working with other retailers instead," noted Mulpuru. "Very smart on their part — they don't have to manage fulfillment headaches, they have best-in-class partners, and they collect a piece of the revenue — which is actually at least as profitable and probably more so than the core part of the Web business."
Walmart.com is the 13th-largest Web retailer, according to Internet Retailer, which compiles a list of top e-commerce sites. Amazon is first, with US$19.2 billion in sales in 2008, according to the site.
Internet Retailer ranked CSN stores 63rd on its list and eBags 93rd. Dreams, the parent company of ProTeam, ranked 217th, according to Internet Retailer.
How It Works
Unlike rival Amazon, whose third-party marketplace is relatively open and accessible, Wal-Mart is exercising tight control over its partners. Explanations to customers on the Web site note that it is approving only established e-commerce retailers for the program but expects to add more in the coming months.
Wal-Mart's site search feature integrates products from marketplace vendors into its overall product mix. A notice appears on each product from Marketplace partners alerting customers that it's offered for sale not by Wal-Mart itself but by a participant in the Marketplace program.
As with Amazon and other third-party services, Wal-Mart's site give customers access to retailer ratings, plus shipping and customer service information.
Wal-Mart will manage checkout through its systems. It will then be up to the retailer to manage the order, including shipping and returns.
Strategic Partner Choice
The choice of retailers the service launched with is clearly strategic, said Nikki Baird, managing partner of RSR Research.
The offerings are heavy on furniture, home decor and apparel items, all chinks in Wal-Mart's armor, Baird said.
The addition of partner retailers could help it cash in on apparel and accessory sales, a particularly weak spot for the retailer, Baird told the E-Commerce Times.
"They have relaunched their apparel and accessories strategy three or four times," she said.
However, it's having partners offer, stock and deliver bulky, floor-space-intensive items such as furniture that's likely to really benefit Wal-Mart, observed Baird.
The effort "to put the level of inventory to truly support furniture across 4,000 Wal-Mart stories is not worth making," she said.
What's Next
While eager to grow its third-party program, Wal-Mart is unlikely to open it to the sort of small, unestablished retailers that have taken to other third-party services, said Walmart.com spokesperson Ravi Jariwala.
"We will continue to be very careful," he said. "We will stick with established retailers."
The company has no plans at this time to integrate sales of third-party products with its site-to-store program, which offers free shipping to local Wal-Mart stores for items purchased at the company's Web site.
However, the company will listen to customers and may re-evaluate its strategy later, Jariwala said.
It's a move the company should make to differentiate itself from Amazon, suggested Baird.
"If I'm Wal-Mart, I've got 4,000 stores, and if I can find a way to build in all of the advantages and services of Amazon Services and tie them into my store, then I've got something Amazon doesn't have," she said.