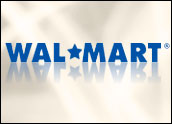 Wal-Mart, the world's largest music retailer, has entered the DRM (digital rights management)-free music download fray. Its decision to sell unrestricted 256 kpbs (kilobit per second) MP3 songs from record giants EMI and Universal may well be the tipping point that lets consumers easily buy popular, legitimate online music capable of playing on most any modern device.
"As we consistently strive to help our customers shop smart at Wal-Mart, our new DRM-free MP3 digital tracks give them the ease and flexibility to play music on virtually any device at a great value," said Kevin Swint, Wal-Mart's senior director and divisional manager for digital media.
"Also," he added, "We're excited to launch our MP3 catalog with major record labels such as Universal and EMI Music that includes music from popular artists like The Rolling Stones, Coldplay, KT Tunstall, Amy Winehouse, Maroon 5, George Strait and Nelly."
Groundbreaking Points
There are several noteworthy points about Wal-Mart's DRM-free move — some of which raise some interesting questions for the online music industry at large.
First, Wal-Mart's DRM-free songs will play on Apple's super-popular iPod, which will make Walmart.com a viable competitor to Apple's iTunes store — at least in theory. iPod-using consumers may prefer to shop at Apple's integrated iTunes store, even though Walmart.com will offer a slightly lower price — 94 US cents per track and $9.22 per album, compared to iTunes' $9.99 albums. iTunes' DRM-free songs are $1.29. Also, Wal-Mart only sells "cleaned" versions of some songs, removing explicit lyrics. iTunes offers both clean and explicit versions.
Wal-Mart's move may bring Apple more competition in the hardware realm as well. Wal-Mart's DRM-free tracks could encourage consumers to purchase non-iPod devices, removing some of the iTunes-iPod ease-of-use advantage.
Universal on the Move
Vivendi's Universal Music Group is now letting mass retailers sell DRM-free songs. In fact, Wal-Mart is just the first of what will be many new online outlets authorized by the label to sell its songs without playability and copying restrictions embedded in the files. Earlier this month, Universal's CEO Doug Morris said the label was conducting a series of tests that will provide "valuable insights into the implications of selling our music in an open format."
Universal said albums and tracks used during its DRM-free tests will include popular artists such as Amy Winehouse, Fall Out Boy, 50 Cent, Black Eyed Peas, Daddy Yankee, Mika, The Pussycat Dolls, Gwen Stefani, Maroon 5, Dr. Dre, Don Omar, Sting, Sugarland, Diana Krall, Paulina Rubio, Shania Twain, Nelly and Prince, among many others.
Wal-Mart isn't the only outlet authorized to sell Universal tracks without DRM. Google, Best Buy Digital Music Store, Rhapsody, Transworld, Passalong Networks, Amazon.com, Puretracks and gBox, also make the list, as well as through artist and label-branded Web sites like sum41.com, evefans.com, common-music.com, ryan-adams.com, blaqkaudio.com, dianakrall.com, and sectionquartet.com.
Conspicuously absent from the list of e-vendors licensed to sell DRM-free Universal material is iTunes, the world leader in digital music download sales.
That's Two of Four
Universal has now joined EMI in selling DRM-free tracks, leaving only Sony BMG and Warner with locked libraries. Will Sony and Warner follow suit? What about when Amazon.com's music store goes live? If they begin offering DRM-free tracks too, will they leave Apple out in the cold? How long will Universal bar Apple from selling DRM-free tracks?
"I don't think we can discount the fact that there's some manipulation in negotiation going on," Mike McGuire, an industry analyst and vice president of research for Gartner, told the E-Commerce Times.
"There's some of that, but keep in mind, from Universal's perspective, it behooves them to have as many legitimate online music stores generating traffic as possible," he noted.
The major record labels feel they need to have some alternatives to iTunes out there to blunt Apple's online music dominance, McGuire said. They are interested in working with other online stores. "Amazon.com is the potential competitor that could be the most formidable that Apple will face," McGuire said, noting that Amazon.com has a vast database of customers who purchased CDs and all sorts of music-playing devices, including iPods.
The wild card with all these stores, however, is that millions of Apple customers may actually prefer to stick with the familiar and buy from Apple iTunes. How long can Universal keep iTunes-loving customers from buying their DRM-free songs?
"Universal's hard line against Apple is likely to continue until Apple agrees to offer tiered pricing on downloadable music, portions of iPod sales revenue, or some combination of the two," Susan Kevorkian, a consumer audio industry analyst for IDC, told the E-Commerce Times.
Down the Road
While Universal runs its DRM-free online music tests, the music producer is just one of many industry players.
"We believe that the real test of DRM-free music will happen when all four major labels are distributing DRM-free songs across multiple online music services and, longer term, when DRM-free music largely replaces DRM-protected selections," Kevorkian noted. "Offering music with and without DRM, side-by-side, as Apple's iTunes Store does, is confusing to consumers."