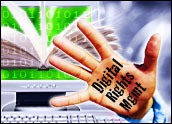 Universal Music Group (UMG) will test selling music free of digital rights management (DRM) technology, and it plans to make the tracks available through RealNetworks' Rhapsody service and other outlets — but not through the iTunes Music Store.
Universal becomes the second major record label after EMI to begin offering music without DRM controls that limit how many times songs can be copied, e-mailed or transferred onto different devices.
UMG — which is owned by media giant Vivendi — said it will make thousands of song tracks and full-length albums available in DRM-free format, including music from 50 Cent, Amy Winehouse, The Police and Johnny Cash.
Same Price
In addition to Rhapsody, the music will be available from the digital download stores run by Wal-Mart, Best Buy and Amazon.com. DRM-free songs will also be available for download from band and artist Web sites.
Apple's iTunes Music Store earlier this year partnered with EMI to make music available for a higher cost without DRM restrictions that limit how a song can be copied or how many computers or other devices it can be played on.
The Universal DRM-free tracks will also cost the same as regular digital music on Rhapsody, which sells songs for 89 US cents each to subscribers and 99 cents each to non-members.
"Real is committed to giving consumers more control over where and how they enjoy the music they buy online," said RealNetworks CEO Rob Glaser. "We think online music is moving to a DRM-free model for music purchases."
Follow the Leaders
Universal will test DRM-free music starting Aug. 21 in the U.S. only. The experiment will run until January, at which time Universal will evaluate the approach.
UMG hopes the test — which it said is an expansion of smaller tests already under way — "will provide valuable insights into the implications of selling our music in an open format," said CEO Doug Morris.
The company will likely be looking for signs of increased piracy on those tracks made available without DRM restrictions at that time.
Universal's move comes just days after EMI said in its earnings update that its partnership with iTunes to sell DRM-free tracks at a premium is showing strong early results and boosting overall digital music revenues. EMI did not say whether it had spotted any increase in illegal swapping of its music.
It's only a matter of time before others follow suit, said JupiterResearch analyst Mark Mulligan, and the trend may help spur more digital music sales.
"Dropping DRM won't drive sudden digital music uptake, but it is crucial for long term viability," Mulligan told the E-Commerce Times. "Early adopters may tolerate the ideology of distrust inherent in DRM versus the ideology of trust inherent in CDs, but mainstream consumers won't."
The Google Factor
UMG's test also includes a partnership with Google, which will run an AdWords campaign pointing users searching for DRM-free music to the download site gBox, which rewards music buyers with points toward earning gifts.
Google is a valuable partner because many users find DRM-free music through Web search engines, Morris said. Google was also among the outlets that UMG said would offer the music for sale, sparking speculation that the search engine was about to begin offering music downloads for sale directly.
No formal announcement of such a move came from Google, which did not return calls seeking comment. Using Google Checkout, the search company already offers to sell users video downloads from their search results and it may be able to add music sales fairly easily.
Universal also didn't comment directly on its decision to shut iTunes out of the test. Though it may feel it can control the experiment better by keeping iTunes — by far the largest seller of digital downloads — out of the mix, tensions are known to be running high between Apple and many music labels, who have been pushing for higher prices and more price variability on iTunes for some time.
Adding Balance?
Universal in particular has butted heads with Apple and may feel it can help level the playing field in the digital music space with its move, Gartner Vice President Mike McGuire told the E-Commerce Times.
A more balanced music landscape would help labels gain negotiating power when hashing out contracts with Apple, which currently has the upper hand thanks to its massive market share, McGuire added.
"iTunes sells 5 million songs a day," McGuire noted. "Nothing else comes close yet. Labels would prefer a more competitive marketplace."
Investors clearly felt the move could help RealNetworks, with the company's stock surging higher by more than 7 percent Friday to $6.05. The move is also helps Amazon, which has said that its digital music store will only sell DRM-free tunes.