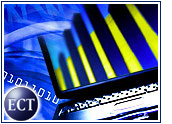 As the April 15th filing deadline approaches, consumers areflocking to tax sites. But according to a new reportreleased by Jupiter MediaMetrix (Nasdaq: JMXI), most visitors are doingresearch rather than filing online.
Online tax preparation may have gotten off to aflying start in the early days, but the growth ofonline filing has slowed to a crawl, according to thereport.
"Despite the fanfare, U.S. taxpayers are notinterested in preparing their tax returns online thisyear," Jupiter analyst Robert Sterling said.
Tepid Growth
According to the Jupiter report, 31 percent of onlinehouseholds intend to file their taxes over the Webthis year, up from the 30 percent reported by the Internal Revenue Service (IRS) last year. The IRS plans to receive 80 percent of all returns electronically by 2007.
According to Forrester analystJaime Punishill, the online tax market grew 400percent in 2000 and 140 percent in 2001, but it will growjust 50 percent in 2002.
Punishill said the growth forecast isrelatively tepid partly because there have been no majorinnovations or improvements to generate consumerinterest in the online filing option.
Appeals to Pros
In addition,only a few companies are offering free online taxpreparation this year. Instead, many are offering smalldiscounts.
Both Sterling and Punishill said there is moreonline potential in the professional tax-preparation market than in the consumer market. They said professional preparerswould welcome an easier way to file on behalf of theirclients and may be more comfortable using the Web todo so.
"Professional tax preparers will jump at theopportunity to eliminate redundant and tedious dataentry," Punishill said.
Getting Ready
Although online filing is showing little growth,Sterling said, Web users are flocking to tax sites to prepare for the tax filing process.
Unique visits to tax sites rose from 3.1 million inOctober to 16.5 million in February, according toJupiter.
The most popular site was Intuit, with 6.2million unique visitors in February, followed by TurboTax with5.3 million and H&RBlock with 3.7 million.
TurboTax was the most popular online filing service,with 5.1 percent of survey respondents planning to useit to file their 2001 taxes — the same percentage that used it for 2000taxes.
H&R Block came in second, with 1 percent of respondentsplanning to use its online filing program, up from0.6 percent last year.