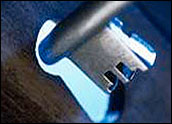 It is now illegal to unlock a cellphone, thanks to a decision late last year by the Library of Congress that went into effect on Saturday.
That decision eliminated an exemption to the Digital Millennium Copyright Act (DMCA) that gave users the right to legally unlock a device in order to use a different provider's network. The Library kept the exemption in place during reviews in 2006 and 2010, but decided last October to reverse its stance, reasoning that the mobile market had grown significantly and consumers had more choices regarding phones and carrier plans.
The decision includes a grandfather clause that makes it legal to unlock devices purchased prior to Jan. 26. That in itself makes the new ruling somewhat difficult to enforce, said Rich Santalesa, attorney at the InfoLawGroup.
"There's a huge existing base of phones that are unaffected by this, and it'll be interesting to see how it's applied," Santalesa told the E-Commerce Times.
Dialing Up Higher Prices?
Concerns about the change are unfounded, according to CTIA: Most carriers already have liberal, publicly available unlocking policies, and affordable unlocked phones are widely available for consumers from third-party providers.
On the other hand, the loss of the exemption could result in a hike in device prices, greater electronic waste, and less flexibility when it comes to switching carriers, consumer protection advocates have argued. While unlocked devices might be available for consumers from third-party vendors, it is possible that certain carriers won't accept them or would attach extra fees to a contract.
Consumers are likely to wind up paying for the changes, but it probably won't be an immediate blow, said Aaron Kelly, Internet privacy attorney at Kelly/Warner Law.
"In the long run, I think the decision will affect prices, because increases can be phased in over time," Kelly told the E-Commerce Times.
Those higher prices will only add to other increasing mobile fees and wireless service costs.
Customers are growing more frustrated over ballooning cellphone bills, Kelly said. The Library of Congress ruling could actually give carriers the chance to reassure them that unlocking a phone is one infraction they would ignore.
"This does present a great opportunity for some companies to boost their image by saying, 'Hey, we won't have the FBI break down your door for leaving our service and continuing to use your phone.'"
Advocates for Appeal
A 2010 decision regarding software being licensed rather than sold helped the Library of Congress reach its latest finding. That case, however, raised questions about the extent to which the Library considered the consumer.
"The argument mentioned is very weak for a few reasons," Kelly pointed out, noting first that it wasn't a Supreme Court decision, and other federal courts can rule differently.
"Secondly, even if altering cellphones to be used on other networks does constitute copyright infringement, it still has the potential to be protected for reasons of fair use, as jailbreaking phones to use other software is," he said. "The fact that there is new case law doesn't really address whether this is fair use. For those of us who are cynics, it would seem that mobile phone carriers simply have more political pull in Washington."
That lobbying power won't stop consumers from fighting for continued protections, or making sure they are more aware of fees or stipulations included in their next cellphone contract, said technology policy attorney Scott Seder of Roberts McGivny Zagotta.
"Decisions like these place a greater emphasis on the relationship between the carrier and the consumer," he told the E-Commerce Times. "Time will tell as to how this will play out, but it is possible that you will see regulatory action, congressional activity or both on this subject, if consumers believe that they are not treated fairly when switching carriers. I believe that decisions like these could also lead to greater carrier scrutiny by consumers at the point of sale."
A "We The People" petition to the White House has already been set up asking for a reversal of the Library's recent decision, he noted.