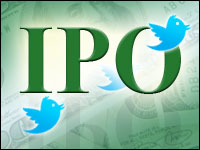 Twitter on Monday gave would-be investors in its initial public offering more food for thought in a new Securities and Exchange filing.
On one hand, it is clearly feeling confident about its valuation: The company raised the price range for its IPO to US$23 to $25 per share, up from the $17 to $20 per unit it had established earlier. Twitter still intends to sell 70 million shares in the offering, which is scheduled to price on Wednesday. It will begin trading on Thursday.
On the other hand, there is now a new threat looming: IBM has notified the company that it has allegedly infringed on three of its patents. IBM is offering Twitter the opportunity to settle before turning the courts.
In truth, neither event is necessarily what it may seem at first glance to investors. Twitter's increased price range, which now values the company at $13.9 billion, is edging perilously close to "overvalued" territory in the eyes of some analysts. As for IBM's suit, many analysts say it almost was preordained given how things stand in the tech community regarding patents now — and for Twitter in particular.
Twitter did not respond to our request for further details.
'The Third-Most-Expensive IPO'
Among those made nervous by the increased price range is Trip Chowdhry, managing director of Equity Research at Global Equities Research.
"It is a little excessive," Chowdhry told the E-Commerce Times. "That is a significant jump from its original price range, and I think that whether Twitter can generate sustainable traction in the market is still uncertain."
Chowdhry's best advice to investors at this point: "Make sure you are not the last one in."
Indeed, Twitter might wind up being more attractive as a short-term trade than a long-term buy-and-hold stock, suggested Charles Lewis Sizemore, a Covestor model manager.
"Twitter's IPO is the third-most-expensive IPO in U.S. history, after Palm and Facebook," Sizemore told the E-Commerce Times.
A 'Dog Whistle' to Investors
A more nuanced theory about the pricing upgrade is advanced by Barry Randall, Crabtree Technology model manager for Covestor, who told the E-Commerce Times that the new price range is serving as "kind of a dog whistle to the investment community."
This action implies that the deal book was at least 10 times oversubscribed at the lower price range, he said, and indicates that interest in the deal was strong enough to justify raising the price range.
"Of course, some investors who put in bids with the underwriters may now decide that $23 to $25 is simply too high a price and therefore they will drop away," he said. "But most will likely stay, especially since the number of shares being offered did not change."
A Frightening Similarity
The bottom line is that unprofitable Twitter, which was going to go public at a very high price-to-sales ratio of 18, is now attempting to do so at a stratospheric 24, Randall said, "when profitable competitors like Facebook and LinkedIn trade at price-to-sales ratios of 18 and 20, respectively."
If Twitter and its bankers "manage the process correctly, the stock will go up just a little after it prices on Thursday morning," Randall predicted. "But as Facebook's IPO showed, the mere hint of something wrong, either with demand or with the execution of the IPO transaction itself, may be enough to cause a run for the exits."
The new pricing is "much more aggressive than the original talk," agreed James Gellert, CEO of Rapid Ratings, which recently — prior to the upgrade — conducted a study about Twitter's IPO in which it concluded that it is frighteningly similar to IPOs from the dot.com days.
Twitter matched 37 of the 38 dot.com characteristics, Rapid Ratings found, compared with 27 by Facebook and 20 by LinkedIn.
That said, Gellert is not surprised by the increase.
"It is the company's job and the bankers' responsibility to get the right balance of deal size and price after gauging market interest," he said, adding that there is currently strong interest on the part of retail and institutional investors.
'The First of Many'
The threat of a patent suit, meanwhile, comes as little surprise to industry watchers — it is common for companies to make such moves prior to a rival's IPO, the theory being the company will gladly settle to avoid any complications at this delicate stage.
Twitter, though, is uniquely vulnerable to such claims, Gellert said.
"Twitter has few patents compared to other tech companies, and its innovators' agreement is written differently than most companies'," he noted.
Basically, Twitter promises developers it will not use its patents offensively — only defensively. That makes it easy pickings for companies that are not similarly hobbled, Gellert said.
"Companies know they won't be sued back, and meanwhile Twitter has accumulated a tempting cash hoard from its IPO," he noted.
In fact, Gellert predicted, "I imagine IBM's threat will be the first of many."