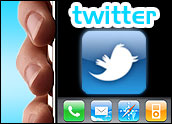 Twitter is deepening its mobile advertising capabilities with the acquisition of TapCommerce, a retargeting and re-engagement provider. Twitter announced the deal on Monday, calling the company's toolset an important piece of the mobile advertising platform it is building for marketers, app developers and users.
TapCommerce enables real-time programmatic mobile ad buying across multiple exchanges through such tools and strategies as cross-exchange buying access, partner support and API availability. It reaches more than 50,000 apps.
This acquisition follows Twitter's purchase of MoPub last year. MoPub is a mobile-focused advertising exchange that allows mobile application publishers to manage their inventory and use multiple sources of advertising including direct ads, house ads, ad networks, and real-time bidding through the MoPub Marketplace.
MoPub and TapCommerce are complementary, and both will continue to offer their respective services, Twitter said.
A Validation of Mobile
Twitter's acquisition of TapCommerce is regarded as an advantageous, perhaps necessary, move for Twitter.
It validates the growing importance of mobile for e-commerce providers, to say nothing of consumers, said Meyar Sheik, CEO of Certona.
"For both Twitter and its users, the benefits of targeted engagement are numerous, Sheik told the E-Commerce Times.
The company "can move forward with its advertising initiatives to woo marketers and increase user numbers by providing personalized content that feels less like spam," he said.
Buying Mobile Ads
If Twitter solves a vexing problem for marketers — the difficulty in placing ads on mobile platforms — it will be that much ahead, said Mike Fyall, head of marketing at URX.
"Today, buying targeted advertising on mobile is more challenging than the Web," he told the E-Commerce Times. "With MoPub, Namo and TapCommerce, Twitter is building the advertising stack needed to make it easy for advertisers to buy at scale in one place. In addition, Twitter is smartly betting on the programmatic buying of native ads being the primary channel of mobile advertising."
MoPub gave Twitter access to more than 1 billion mobile devices each month, Fyall noted. "However, getting set up to work with an ad exchange directly requires work and expertise that many mobile app advertisers don't have. TapCommerce makes it easier for advertisers to buy on exchanges and will allow them to onboard advertisers more quickly."
For Twitter, the move to mobile advertising is twice as compelling as it is for other companies, he added. "Due to slowing new user growth, Twitter is challenged to rapidly find a way to advertise outside of its core consumer property. It needs to do this to both expand the volume of ads it can show, and to compete with Google and Facebook on the reach it can provide advertisers."
Twitter will have to proceed carefully, however, in order to avoid alienating users, Certona's Sheik added.
"Users are increasingly aware that marketers and advertisers seek the coveted user information social platforms can provide," he said. "Twitter will need to practice transparency and find that happy medium between collecting too little information and being too intrusive. Failure by Twitter to respect users' privacy could unfortunately result in a less than stellar ROI."
There is another matter that Twitter should take into account, said Rob Enderle of the Enderle Group — TapCommerce focuses on ads that get people to use an application they've purchased, or a capability that likely should be built into the app itself.
"It isn't that the idea is bad, but even if this effort is successful, you'd expect the app developers to eventually go around this app, rendering it redundant," he told the E-Commerce Times.
"Making sure that last step doesn't happen is as critical as getting people to adopt this thing," Enderle said, "and that second step is likely where this acquisition will fall apart."