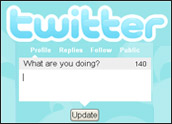 After much rumor and speculation, Twitter and TweetDeck announced what many had already concluded: the popular third-party client has been acquired by Twitter. The terms of the deal were undisclosed but various news reports put it between US$40 million and $50 million.
Of perhaps greater interest, at least to its users, are Twitter's plans for Tweetdeck.
Little has been said beyond the two companies' blog post on the acquisition. Reading between the lines, however, it appears as though Tweetdeck will be used to better service brands or heavy power users.
Twitter.com and the official mobile clients already leave mainstream users well-served, according to a message posted by TweetDeck CEO Iain Dodsworth.
TweetDeck, then, will fill the role for brands, influencers and power users, he said.
Twitter CEO Dick Costolo also alluded to brands and marketers in his statement. His company will continue to invest in TweetDeck, he said.
Twitter did not return a request for further comment to the E-Commerce Times in time for publication.
'Better Integration'
Even without the push to service brands, the acquisition should be a win for its users, or at least most of them, Rob Enderle of the Enderle Group told the E-Commerce Times.
"In general, this should result in better integration between Twitter and TweetDeck with improvements to performance, removal of update limits and higher reliability. On the downside the product will likely also be used to present advertising and help generate revenue for Twitter more aggressively, which some may find irritating or distracting," he said.
Too Hot for Twitter?
There are other theories as well, of course, starting with the popularity of TweetDeck. "Twitter couldn't compete with TweetDeck on quality," Michael Hussey, CEO of PeekYou, told the E-Commerce Times. "So it acquired it instead."
In general, he said, it appears as though Twitter is locking down its platform, snapping up the best apps in order to own a premium data hose. "I would say more acquisitions are coming," Hussey said.
Controlling the Ecosystem
Clearly Twitter does want to control its ecosystem and the corresponding user experience as much as possible, Christopher Barcelona, director of RI Lab, told the E-Commerce Times.
It also may well develop a professional and lite version of Twitter based on what the user wants out of the experience, he continued.
Targeting Power Users
The real clue to what Twitter might have in mind for TweetDeck, however, lies in its use of the phrase "power users," he concluded.
TweetDeck's audience is made up of mostly power users that generate about 80 percent of Twitter's content. "Which means they're active. Very active. So if Twitter can ensure access to these users and target advertising to them, that becomes powerful. The power users' eyeballs are looking at their TweetDeck stream constantly, and if Twitter controls the ability to reach those eyeballs with meaningful ads, then that only helps justify their valuation."
Targeting Too
Also, he noted, TweetDeck lets power users organize their "streams" of tweets into categories and lists based on topics and subject matter.
"Imagine Twitter being able to leverage that data so that they aren't simply advertising to the power user segment but ensuring that advertising is extremely relevant based on information about the topics these users care about," he added.