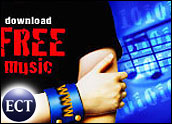 These days, when you hear about downloading music for free, it's usually bad news: a lawsuit from a label, a threat from an ISP, or a crackdown from the government. Now, though, a new startup is turning the tables and encouraging fans to grab all they want — without paying a single dime.
TrueAnthem considers itself a modern-day music label. Launched in April, the service offers widget-based downloads of entire albums for free. The only catch? A five-second ad at the top of each track. The label's already attracting attention: Known names such as Nine Inch Nails and Hootie and the Blowfish are on board, and about three dozen other up-and-coming indie artists are giving it a go.
Embracing the Enemy
The idea behind TrueAnthem is simple: Like it or not, people are downloading music without paying for it. Rather than fight it, CEO Brad Barnes decided to embrace the enemy.
"Music is and will be free," Barnes told the E-Commerce Times. "There's no turning back — that train is going down the path. Napster started it and it's not going any other direction," he said.
The question, then, became how to turn an industry-wide dilemma into a profitable venture — without turning off the fans. Barnes and his collaborators saw how Radiohead made waves with its "pay-what-you-want" platform, in which the band let the public decide how much to shell out for its 2007 "In Rainbows" album. The process, Barnes said, was flawed — but the concept was brilliant.
"This was a technology failure but a marketing genius success. We asked, 'How do we take technology and enhance what they did and still bring value to it?'" he explained.
Then, it hit him — and Barnes couldn't believe how obvious it seemed. Music was the only major medium, he realized, in which advertising hadn't been optimized.
"It was the one place that advertising hasn't been entrenched properly into the content itself," Barnes commented. "You look at every other example — video, TV, and motion picture have done a great job of integrating advertisers and there's been a big value there — [but] nothing in the music world made sense."
Restrictions Lifted
That metaphorical light bulb signaled the start of TrueAnthem. The developers worked to sets their product apart from competing companies by lifting the typical restrictions. Both Imeem and the upcoming MySpace Music, for example, focus on ad-supported streaming without free downloads. Another competitor, Spiralfrog, offers free downloads, but with a caveat: You can't burn the files to a disc or copy them to an iPod, and you have to renew licenses every month to keep them at all.
TrueAnthem may have a more limited selection than those services, but its offerings are designed to be limitless. Each track is DRM-free and can be copied to as many CDs and MP3 players as you like, and no license ever has to be renewed.
"It just makes sense, right? Gas prices may go up, but free still works. That's not going to impact our fan base's decisions," Barnes said.
Musicians make a fixed rate — a number Barnes won't divulge — for each song downloaded from their widgets. The widgets are also portable, so artists can set them up on blogs, MySpace pages — practically anywhere their fans might be lurking.
Industry Adoption
While TrueAnthem's roster is still small, its principles are quickly catching on. Just this month, Google announced plans to launch an ad-supported free music download service in China. America has been slower to adopt the model, but little by little, the industry is starting to embrace it.
"The young artists intuit that … if you have millions of people that think you're great, you're going to make money somewhere," David Rezek, a music industry veteran and director of the Bandier Program for Music and the Entertainment Industries at Syracuse University, told the E-Commerce Times.
"If something like this introduces you to new faces, new ears — then actually does have a backside where the compensation is nominal — boy, it would be worth a lot," he added.
The ad-supported model, Rezek predicts, could have value for artists of any size — though it may take time for the bigger acts to come around to the notion.
"I actually think even the major labels are starting to wake up to the fact — after seeing what Nine Inch Nails could do or what Radiohead could do — they're all kind of saying, 'We need to partner with these people,'" Rezek said.
The Road Ahead
The major labels may not be TrueAnthem's cup of tea just yet — right now, the company is content focusing on undiscovered and independent acts — but that could change as the operation continues to evolve.
"We don't want to be the guys who are competing for the 99 cents — it's not our model," Barnes told the E-Commerce Times. "Our model is taking fresh new content and putting it out in an ad-supported way, free for the fanbase. When the labels are ready to address that, we'll work with them."
Whether it's big labels or small artists, though, Barnes and his team plan to keep one thing constant: their motivation to put the music first and keep their passion in place.
"You always hope you can get involved in something that you love every day. Music is at the soul and heart of a lot of people. To be able to have a business around the music has been really rewarding," he said.