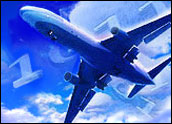 Dismayed by the prospect of Google acquiring a key service provider in the travel industry, online traveler providers have banded together to formalize their opposition to the deal.
In July, Google announced a US$700 million agreement to acquire ITA Software, a company that provides airline travel software and counts among its clients airlines such as American and Continental, as well as aggregators such as Hotwire, Kayak, Orbitz and Microsoft's Bing.
When the deal was first announced, Google made a point of saying it planned to honor all the agreements ITA Software had with its customers — and did not intend to sell airline tickets. Instead, Google said, it planned to use the platform to build new flight and fare search tools.
Enter FairSearch.org
Such promises have not assuaged the online travel community, which has formed a group called "FairSearch.org," not only to protest the acquisition but also to persuade the Department of Justice to rule against the deal on antitrust grounds.
Google and FairSearch.org did not respond to the E-Commerce Times' requests for comment by press time.
FairSearch has indicated that its member companies — which include Expedia, Kayak and Travelocity — believe Google would be able to manipulate and dominate the online air travel market with ITA under its belt.
ITA provides the technology behind 65 percent of all carrier-direct online flight searches in the U.S., according to FairSearch, and its flight search software powers six of the top 10 air carriers in the U.S. Furthermore, Google is the source of more than 30 percent of all search engine traffic to online travel sites.
In response to the FairSearch launch, Google reiterated its original promises and intentions.
"Our reason for making this acquisition is simple," Andrew Silverman, senior product manager wrote in a blog post. "ITA will help us provide better results for our users. When someone searches for "flights from San Francisco to London," we'd like to provide not just "ten blue links" but exact flight times and prices as well — just as our competitors do today."
New, Integrated Offerings
There is a demand for such search functionality — but the competitors in this space have reason to be nervous, said Mike Jude, an analyst with Frost & Sullivan.
"In general, it is very clear that Google's plans are much more extensive than just better enabling search," he told the E-Commerce Times.
Google's product vision is one in which services are integrated and layered upon one another, he explained. For instance, with ITA Software — and the successful launch of Google TV — Google could conceivably offer a service in which someone viewing a travel documentary or nature show would suddenly be shown an ad to book a trip to that locale.
"Right now, for most people, casual travel is something that is planned. But with ITA Software and Google's marketing capabilities I could foresee a new market developing where casual trips are planned in a more spontaneous manner — fueled by Google's one-click technology that comes across your television set or mobile device," Judd said. "Name one other travel agency that can deliver that same dynamic."
DoJ Misgivings?
No doubt competitors cringe at such scenarios — but that is beside the point when it comes to antitrust law, said Keith N. Hylton, a law professor at Boston University.
The key issue is whether consumers would be hurt by the acquisition, he told the E-Commerce Times.
It is clear that the rival travel search services could be hurt, he said — but, in the end, the Justice Department will focus on the question of whether consumers would have to pay higher prices for travel services as a result of the merger.
Google may also find itself battling a perception that size matters.
"The DoJ wants to send a message that it is serious about enforcing antitrust laws," said Hylton, "and with Google having such a very large market share, that might make it a target."
Certainly, its acquisition of AdMob was held up by Justice Department fears of a Google monopoly in the mobile ad space, he pointed out, despite the fact that the market is still very nascent.
"I couldn't tell you quantitatively how big the size bias is against Google," said Hylton, "but I would bet it is a factor in any deliberations."