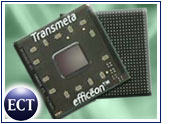 Silicon Valley semiconductor company Transmeta has put itself up for sale.
The Santa Clara, Calif.-based chip designer hired investment bank Piper Jaffray in early 2008 to assist it in exploring strategic options — including a potential sale. Piper Jaffray will head up the effort to find a buyer.
In after-hours trading, Transmeta stock was up nearly 20 percent, trading at about US$16 per share.
A Company in Flux
Founded in 1995, Transmeta started as a low-power microprocessor maker, CFO Sujan Jain told the E-Commerce Times. However, the company has changed significantly since then.
"Eventually, we saw we had some issues in terms of growing that business," Jain said. "If you look at the marketplace for microprocessors, it's very complicated. We spent a lot of money developing microprocessors, but we were not very successful selling them due to competition and how much investment it takes to come up with new products."
In 2007, Transmeta got out of the chipmaking business and also shuttered its consulting unit in favor of licensing a proprietary technology that reduces the power consumption of semiconductors, Jain said.
The Intel Settlement
At the same time that Transmeta was pulling out of the microprocessor business, it filed a patent infringement suit against chip giant Intel. The suit was filed in early 2007.
In October 2007, Transmeta and Intel reached a settlement: Intel agreed to pay $250 million to its smaller competitor. Under the terms of the deal, Intel was to make an initial payment of $150 million, with the remainder coming in the form of annual $20 million payments over the next five years.
However, Transmeta announced Wednesday that Intel will pay it $91.5 million sometime in the third quarter, Jain said.
"After the settlement with Intel, we have more than $250 million in cash," he noted. "Now, an acquirer doesn't have to come up with as much cash to buy Transmeta."
The Decision to Sell
After hiring Piper Jaffray in early 2008, Transmeta undertook an eight-month process of considering its strategic options. In the end, the board decided a sale of the company was the best strategy.
"We believe the best way to maximize shareholder value is to initiate a sales process," said Jain, who would not comment on whether any offers have been made to Transmeta.
The company has between 40 and 50 employees, including outside consultants, he said.