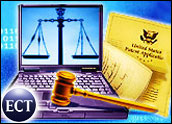 Three months after being sued by Transmeta for patent infringement, Intel fired back at the smaller chipmaker this week, filing a countersuit that claims Transmeta is using up to seven of Intel's patented technologies without permission.
Transmeta sued Intel in October, filing an action in U.S. District Court in Delaware that claimed the chip giant was infringing on Transmeta technology covered by 11 different patents.
The patents were infringed by a host of Intel products, including the Pentium III, Pentium 4, Pentium M, Core and Core 2 lines of microprocessors, the company said.
In its first answer to that suit, Intel filed a response along with a countersuit claiming that current Transmeta products include technology covered by seven different Intel-held patents, including one that covers an "apparatus for controlling power usage." The other patents cover various features of the chips themselves.
Both companies did not respond immediately to requests to comment on the suits. In the countersuit, Intel claims the infringement was willful and that the firm will seek triple damages. Transmeta made the same claim against Intel in its original action.
The news boosted Intel stock considerably, with investors sending shares up 2 percent in afternoon trading Thursday, to US$21.95. Transmeta stock was up nearly the same percentage, to $1.05 per share.
Big Ticket Items
Each company has asked the court for injunctions barring the other from selling the infringing chips until the case is resolved, and both have asked for as-yet unspecified financial damages.
The suits could have significant financial implications. In its original filings, Transmeta said that Intel shipped an estimated $100 billion worth of Pentium chipsets that may contain the infringing technology.
The dispute appears to focus on the issue of power usage, including how chips can be designed to power themselves down when a machine is not being used. Transmeta's chips have gained a reputation for offering high levels of power reduction.
Energy efficiency is becoming an increasingly important consideration for many buyers of information technology, especially in the mobile arena. Several companies have begun to emphasize power efficiency in their equipment, and Transmeta has argued for several years that its chips can run as fast as Intel's, operate the same software and on the same platforms, and use less power to do so.
Though Transmeta originally attempted to compete directly with Intel and others, the small chipmaker now focuses primarily on licensing its technology and on providing design services to other companies.
Transmeta was seen forcing Intel and others to respond to their early success in the power efficiency arena, according to Enderle Group Principal Analyst Rob Enderle. Not long after Transmeta launched its energy-efficient Crusoe chips in 2000, Intel developed the Pentium M line, which has been a smash success and helped drive the popularity of notebook PCs.
Back and Forth
Transmeta's power-efficient chip lines include the Crusoe, Efficeon and Efficeon 2 brands; Intel is claiming that all of those lines may violate at least one of its seven patents.
In addition to countersuing, Intel said in its response that Transmeta patents may be invalid and do not meet all the conditions necessary to be patented, suggesting that Intel could launch a separate challenge aimed at having the U.S. Patent and Trademark Office overturn the original patent grants.
eBay used that approach to call into question patents held by MercExchange, which had sued eBay for violating its patents governing online auctions. Research in Motion also challenged the validity of patents held by NTP, though it later agreed to settle a suit brought by that company.
Whatever the approach, Intel and Transmeta should prepare for a lengthy fight if they intend to let the courts decide the case.
"Patent cases can take years just to get in line for a trial," said David A. Roodman, co-chair of the intellectual property group at Bryan Cave in Washington, D.C. "As we've seen, if the stakes are high, companies can dig in and the cases can take even longer to play themselves out."