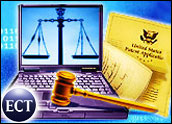 Intel is facing a sweeping patent infringement suit from a far-smaller competitor. Transmeta is alleging that the chip giant infringed on 10 of its patents.
Transmeta claims Intel knowingly infringed on technology protected by U.S. patents covering things such as computer architecture and power efficiency. The Santa Clara, Calif.-based company claims a variety of Intel products, including the Pentium III, Pentium 4, Pentium M, Core and Core 2 product lines, include infringing technology.
Seeking Billions
Transmeta is seeking an injunction preventing Intel from continuing to sell the products and monetary damages, including "reasonable royalties," triple damages and attorneys' fees.
Though specific dollar figures were not given in the suit, the market for the chips alleged to be infringing is around US$100 billion.
"Transmeta has developed a strong portfolio of intellectual property rights to capture and protect our proud legacy of developing advanced computing and microprocessor technologies," said John O'Hara Horsley, executive vice president and general counsel at Transmeta. "Intel has acknowledged that Transmeta has been an innovative spur to some of Intel's own development efforts, roadmap decisions and new product successes. At the same time, Intel has practiced multiple Transmeta inventions in its major microprocessor product lines."
Intel is no stranger to legal action from competitors, having faced both patent infringement actions in the past as well as a number of antitrust actions, primarily from the second-largest chipmaker Advanced Micro Devices.
Talks Failed
Horsley said the suit was filed after "endeavoring to negotiate with Intel for fair compensation."
"We have concluded that we must turn to the judicial system to be fairly compensated for our inventions," he added.
An Intel spokesperson said Intel had not yet reviewed the full complaint.
Transmeta has long been known for its technological prowess — the company was founded by a former Sun executive who developed that company's highly regarded low-power chipsets, and Linux inventor Linus Torvalds was employed there for about six years prior to 2003.
However, some of its chipsets that ran on lower power were released long before data centers grew to today's sizes, and before the typical company could see significant savings from reductions in energy use or before consumers were widely demanding more powerful and smaller notebook PCs.
The company also launched to much hype, with just a single customer on board, noted Enderle Group Principal Analyst Rob Enderle. The result of the high-profile launch was little marketplace traction.
It did, however, prompt Intel to put "a massive amount of resources into creating" more power-efficient chipsets, including the Pentium M line, sold under the Centrino brand name for notebook computing. While the chips didn't match Transmeta's, they were good enough to satisfy the mass-market and reduce pent-up demand for the smaller firm's innovations, Enderle said.
Protecting IP
Transmeta went public in 2000, raising $273 million and raising hopes that it would become a major competitor for Intel.
Though it attempted to compete directly with AMD and Intel, today, Transmeta relies largely on licensing revenue. Most of its $72 million revenue in 2005 came through licensing deals with device makers such as Sony, Toshiba and Fujitsu.
Transmeta CEO Arthur Swift said the company put an IP licensing and protection plan in place last year and recognized that "in some cases we might need to pursue enforcement through the courts."
Shares of Transmeta stock soared on the news, rising more than 16 percent Thursday to $1.30. However, the news did little to dampen investor enthusiasm for Intel shares, which were up nearly 2 percent in afternoon trading to $21.28.