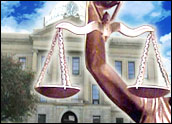 Tiffany has appealed a ruling in a federal court that online auction company eBay isn't responsible for keeping its users from selling fake jewelry that uses Tiffany's trademark.
Tiffany, one of the world's most recognizable brands in the jewelry sector, filed its suit against eBay in 2004, claiming that most of the items bearing the Tiffany name on the site were phonies.
Last month, Judge Richard Sullivan of the Federal District Court in Manhattan ruled that Internet companies like eBay don't have to monitor their sites for trademarked or copyrighted property.
The New York City-based jeweler has appealed Sullivan's ruling in the U.S. Court of Appeals for the Second Circuit.
Tiffany Lawyers: Court Erred
The reasons for the appeal are straightforward, said James Swire, a partner at the law firm representing Tiffany, Arnold & Porter.
"There were a number of errors of law in the decision which led to the erroneous conclusion dismissing the complaint in the action," he said. "Those errors include the failure of the court to recognize that the prime purpose of the trademark act is to protect consumers and trademark owners. There was no weight given to that well-established principle."
The court misunderstood the duties Tiffany has as a brand owner in terms of the jeweler's trademark policing activities, Swire told the E-Commerce Times.
"Certainly, Tiffany met its duty to police its trademark by suing eBay," he said. "We're not aware of any additional obligation Tiffany has to assist eBay, which has its own independent obligations under the law. Once eBay has notice of a substantial problem, it has a duty to investigate and take action."
Fakes Widespread on eBay
Prior to filing the suit against eBay, Tiffany implemented two buying programs where it purchased so-called genuine Tiffany merchandise on eBay. Seventy-five percent of those pieces turned out to be counterfeit, Swire said.
In appealing Sullivan's ruling, Tiffany is trying to protect the company's reputation for quality and genuine jewels, he said.
"The risk of buying counterfeit items is higher in an Internet setting when the goods are not in front of the buyer and the seller is unknown," Swire said. "While the Internet has facilitated the sale of lots of merchandise in a very positive way, when fraudsters get involved, there's a risk that they can damage the buyer and the legitimate seller."
eBay Responds
Tiffany's decision to appeal will not solve the ongoing counterfeiting problem on Internet retail sites, said Catherine England, an eBay spokesperson.
"Tiffany's decision to carry this litigation on after the District Court's decision doesn't do anything to combat counterfeiting," England told the E-Commerce Times. "The best way to stop counterfeiting is ongoing collaboration between companies, government agencies and law enforcement."