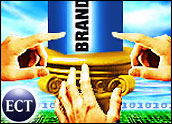 Does your business bear legal responsibility to police the infringement of one of your organization's most valuable assets, the company brand, on widely used Internet auction sites like eBay?
That all depends on where the electronic commerce is being conducted, based on recently issued, conflicting court opinions from the United States and France.
On July 14, the United States District Court Southern District of New York concluded that trademark owners, not e-commerce sites like eBay, carry the burden of ensuring that their intellectual property rights are not being violated.
But just two weeks prior to the U.S. ruling, the Paris Commercial Court issued three decisions that slammed eBay, accusing the Internet auction Goliath of gross misconduct and negligence for failing to take steps to prevent the sale of counterfeit goods on its site.
Separately, the courts also clashed over the legality of eBay selling legitimate trademarked goods when the brand owners have not authorized those sales.
The Ripple Effect
These polar-opposite opinions present an interesting, if not challenging, conundrum for businesses heavily engaged within the global marketplace through Internet commerce.
Although appeals are probable, especially by eBay in the French case, the ripple effect of these rulings may well color the strategy initiated by trademark owners and Web site entrepreneurs, and they could shape future development of e-commerce on different continents.
Brands across the globe are already reeling from gargantuan profit losses brought about by illicit trade in knock-off products, despite trademark owners' efforts to stem the tide through investigations, litigation and public-awareness campaigns. In the past two decades, the counterfeiting problem, especially in the luxury brand category, has skyrocketed by 10,000 percent. Fueling these problematic increases is the ease of e-commerce and its faceless, direct-to-customer, worldwide distribution avenues available with a few simple strokes of computer keys.
Police Your Own
The U.S. court decision will require branded companies to continue to police their own trademarks in e-commerce and pursue enforcement against individual infringers who use sites like eBay.
Additionally, the U.S. court decision strongly protects the sale of legitimate goods in the so-called secondary market. That protection, however, won't be available to companies like eBay in the French marketplace. Rather, the burden will be on e-commerce sites to ensure the legitimacy of goods sold and whether trademark owners have authorized such sales.
Since its founding in 1995, brands worldwide have lobbed accusations against eBay, saying the company pleaded ignorance while knock-offs were bought and sold on its site. The company has long said it only hosts the site and relies on a group policing mentality and member self-monitoring.
Since 2004, eBay stepped up efforts to deter unlawful activity, pioneering the fight against counterfeits through the Verified Rights Owners program, which allows eBay to collaborate with brand owners to identify and remove counterfeits from the site.
Nonetheless, the French court held eBay responsible, a decision the Internet auctioneer said was a loss for it, consumers and small businesses that sell goods online. An appeal is promised.
"It is clear that eBay has become a focal point for certain brand owners' desire to exact ever greater control over e-commerce," eBay said in a press release after the French court decision. "We believe that the [court's] overreach manifests itself through an attempt to impose, in France, a business model that restricts consumer choice through an anti-competitive business practice."
Not surprisingly, eBay applauded the U.S. court's opinion, saying it gives consumers more opportunity for choice and value.
"This ruling appropriately established that protecting trademarks is the primary burden of rights owners — not marketplaces like eBay," the company said.
Can't Anticipate Infringement
In the U.S. suit filed by Tiffany, the luxury goods company alleged that sellers offered hundreds of thousands of counterfeit silver jewelry items on eBay's Web site between 2003 and 2006.
Tiffany argued that eBay was obligated to investigate and stop sales once it knew of the counterfeit problem. Tiffany also wanted eBay to refuse to post any sale that offered five or more of its trademarked items and to suspend any seller identified by Tiffany who "potentially" was involved with infringement.
But U.S. District Judge Richard J. Sullivan agreed with eBay's position that brands should police their products. The law does not make eBay liable for contributory trademark infringement for refusing to take preemptive steps or for knowledge that counterfeit goods "might" be sold on its Web site, the judge said.
To determine liability, "the standard is not whether eBay could reasonably anticipate possible infringement, but rather whether eBay continued to supply its services to sellers when it knew or had reason to know of infringement by those sellers," Sullivan wrote.
Sullivan also ruled that eBay's use of Tiffany's trademarks in its advertising is protected and fair and that the luxury goods company failed to prove that it diluted the trademark.
In strong contrast to the French court decisions, the U.S. court strongly defended secondary markets in authentic trademarked goods and eBay's right to promote such sales.
"Clearly, eBay and other online market Web sites may properly promote and facilitate the growth of legitimate secondary markets in brand-name goods," Sullivan wrote.
Brands Win One
The French rulings on June 30 came from lawsuits filed against eBay by LVMH, a conglomerate of some of the world's leading luxury brands, including Louis Vuitton Malletier and Christian Dior Couture. The court ordered eBay to pay US$60.8 million in damages to LVMH.
In its decision, the court found eBay was a "broker," not a "host" for its Web site, leaving it unprotected by a French law that limits a "host's" liability. The court said eBay was an intermediary between sellers and buyers in exchange for commissions.
Advertisements and transactions for Louis Vuitton products on eBay related to infringing products and "appears quite obviously, either through captions such as 'a fine imitation of a Louis Vuitton design' or simply on the basis of the prices asked and of the quantities offered," the court said.
eBay should have verified that habitual sellers were properly registered with competent authorities and that sellers could supply purchase invoices or certificates of authenticity, according to the court. Also, eBay should have permanently terminated the accounts of guilty vendors as soon as a breach or problem was discovered, the opinion stated.
Louis Vuitton said the French courts correctly interpreted that auction Web sites like eBay are brokers, not hosts.
"This verdict represents an important step in the protection of brands and design against parasitic practices," the company said in a news release after the decision. "The court brings an important contribution to the protection of creative works which make up an important part of our national heritage and generate many jobs in France."
In the case filed by Christian Dior Couture against eBay, the Paris court issued a ruling virtually identical to the ruling in the Louis Vuitton case.
In its third and separate decision, the Paris court also ordered eBay to stop selling perfumes and cosmetics bearing the trademarks of Dior, Guerlien, Givenchy and Kenzo and to stop its Internet site sellers from using these names. Failure to comply would trigger a 50,000 euro penalty per day.
Ever Vigilant, Ever Diligent
The Internet has been compared to the Wild West of the United States during the Gold Rush years — the promise and allure for business is great, but so is the potential for corruption and abuse.
While the Internet enables entrepreneurs and small businesses to compete with big businesses by having access to a global distribution channel for legal and authentic items, it also connects crooks with unsuspecting customers to erode the brand value of legitimate businesses. This and the 24/7 nature of the Internet dictate brands must be ever vigilant and ever diligent — regardless of the country in which they operate.
LVMH's recent success in France demonstrates to frustrated brands worldwide that an aggressive litigation strategy can pay off. While the full impact of this victory remains to be seen, it's given that establishing solid Web brand protection programs and aggressively pursuing criminals will be part of brand protection for years to come.
---
Luis Alcalde
is president of
PICA
, a provider of loss prevention and risk management services.
---