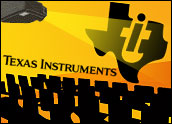 The stock price for Texas Instruments dropped nearly 6 percent — and sent a minor shock wave through its biggest customer's stock — on news that the company had lowered its profit forecast on Monday.
Dallas-based TI, which supplies chips to about half the wireless handsets worldwide, saw its shares slide to US$27.93 by midday Tuesday on the New York Stock Exchange, nearly 6 percent below the stock's Monday closing price of $29.65.
TI on Monday lowered its earnings forecast for the quarter ending March 31 by 3 cents from January estimate of 41 to 45 cents per share.
Nokia, TI's largest customer, saw its stock price drop nearly 5 percent Tuesday, to 20.35 euros ($31.40) on the Xetra stock exchange.
Handset Makers Diversifying Suppliers
Two major handset manufacturers, Nokia and Sony Ericsson, announced recently that Texas Instruments no longer would be their exclusive supplier of chips.
The lower expectations were not a result of rivals taking away sales that ordinarily would be going to TI, company Vice President Ron Slaymaker reportedly said, noting that it's mostly a result of falling demand for smartphones.
"Our revised outlook is driven by lower demand from wireless, especially for high-end, or 3G (third generation), phones," TI spokesperson Chris Rongone told the E-Commerce Times. "Outside of wireless, demand trends for analog and for the remainder of our product lines are generally tracking our initial expectations."
Raymond James analyst J. Steven Smigie agreed. "I'd say today's weakness doesn't have anything to do with TI, per se.
"It seems Nokia had some issues somewhere along the way. It's a demand issue. I think TI is a solid company. If you look at the analog business, they're doing a really solid job out there," he told the E-Commerce Times.
Texas Instruments is the No. 2-ranked chip supplier for mobile phones behind Qualcomm; however, it remains the market pacesetter for analog chips that control robotic instruments, automobile airbags and other automated products. TI also supplies chips for TVs, cameras and an array of other electronic products.
A Setback but Not a Catastrophe
Nokia diversifying its chip supply base isn't catastrophic, but it's certainly a blow to Texas Instruments, said Ashok Kumar, an analyst at CRT Capital Group.
"I think there are two separate issues, and one is share loss for Texas Instruments," Kumar told the E-Commerce Times. "Nokia has historically been their largest customer at almost 20 percent of revenues. On top of that is ongoing inventory corrections in the handset market. Those are the two primary issues that will likely linger on longer than most investors would like."
A once highly profitable handset chip market has clearly deteriorated for TI, Kumar noted. "The landscape has changed. Turn back two years — TI had the silicon market in handsets to itself. Now, there are others who are muscling in for supply contracts. So, that franchise is eroding sharply for the company."
Seeing More Competition
Nevertheless, TI's diversified business will help to mitigate the effects of that deterioration, however, Kumar said."There is potential offset in the analog market, but it's a fairly commoditized market and price is the primary differentiation. Investors are not willing to pay a premium for that segment, which is roughly about 45 percent of sales."
Handset manufacturers such as Nokia and Sony Ericsson are looking at a mature market for handsets, Kumar said. "Incremental demand is being driven in emerging markets, where they choose not at the iPhone level but at the $50 level, so revenue opportunities for silicon companies like TI diminishes."
Smigie acknowledged that TI's field is indeed getting more competitive. "On the wireless side, you're seeing more competition, but in the past, you've seen Nokia try to diversify the supply chain without much success. There's still a lot to be written on the whole wireless story."