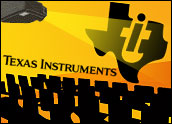 Chipmaker Texas Instruments narrowed its second-quarter fiscal outlook late Monday, reducing the high end of its forecast range on weaker demand for wireless networking gear and calculators sold to the education market.
Texas Instruments — a bellwether of sorts because it is the world's largest maker of chips for wireless devices — said second-quarter sales will be between US$3.36 billion and $3.51 billion. In April, the company said sales could go as high as $3.6 billion. The per-share profit forecast was reduced to between 40 and 44 cents, compared to a previous high end of 45 cents.
The company's semiconductor revenue for the period will be as high as $3.34 billion, below the previous high end of $3.4 billion, TI said.
Restocking Supplies
Revenue from its education technology division, which sells calculators, is forecast to be up to $170 million, compared with the previous forecast of $200 million.
That shortfall is a result of more retailers waiting until later in the summer to restock their supplies of back-to-school items such as calculators, the Dallas-based company said.
The narrowed forecast came as something of a surprise because of perceived strength in the overall wireless device market. Investors appeared disappointed as well, driving down TI shares by 1.6 percent to $35.22 in Tuesday morning trading.
Way Back to School
The good news is that mobile chip sales growth has picked up "as expected following the inventory correction of the past few quarters" when equipment makers had more chips on hand than they immediately needed, said Ron Slaymaker, manager of investor relations for the company.
Revenue from the calculator unit will not be lost but simply shifted later, he added. "This calculator revenue is expected to shift into the third quarter," Slaymaker said. "It's only a timing issue."
The company is optimistic about the business prospects of handset makers, such as Nokia, which use the company's chips in their handsets and are seeing increased demand for high-end smartphones.
While TI's chips are found in everything from high-end TV sets to medical devices, about 40 percent of its revenue comes from mobile chip sales, where Nokia is its biggest customer. That market is evolving rapidly, with TI and Qualcomm going head to head more often for the right to supply chips to handset makers. While TI remains the market leader, Qualcomm has grown its share of the market for baseband chips — the basic components of most mobile phones — in recent quarters, according to data from research firm iSuppli.
Last year's slight glut of chips in the inventories of handset makers had dragged down results somewhat, Cowen & Co. analyst John Barton told the E-Commerce Times. The fact that those inventories have been worked through point to growth ahead, he noted. At the same time, the company has worked to contain costs to be able to handle the changes in demand levels and has narrowed its focus to include mainly the mobile and networking sectors, for instance, selling off its sensors and control business last year in a $3 billion transaction.
Gain From Pain
TI could be in line to benefit from the legal troubles of rival Qualcomm, which is facing an order barring new models of handsets containing its chips from being imported into the U.S. after being found to have infringed on the patents of rival Broadcom.
Texas Instruments is also in line to gain from the hype surrounding the Apple iPhone, set to launch later this month, Gartner analyst Alan Brown told the E-Commerce Times.
That launch will drive up demand for innovative multifunction phones, which in turn will require more sophisticated chips — and in many cases more of them.
"The iPhone and the existing phones on the market won't satisfy the demand for multi-function media-focused devices," Brown said. "Handset makers will aggressively roll out new designs and chip makers will benefit."