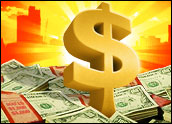 Worldwide sales of semiconductors reached US$22.7 billion in November, an increase of 11.3 percent from the $20.4 billion in sales recorded during the same month in 2005, the Semiconductor Industry Association (SIA) announced Tuesday.
For the fifth straight month, the industry has set new sales benchmarks as demand for consumer electronics and PCs remains robust.
Sales were up 3.1 percent from the previous month, extending a string of new sales records that began in July 2006. Through November, chip sales clocked in at $225.1 billion, up more than 9 percent compared with the same time period the year before.
"Despite some signs of slower economic growth in the fourth quarter, consumer purchases of electronic products remained strong and again drove semiconductor sales to record levels," said George Scalise, president of the SIA.
Chip sales are often a closely watched harbinger of economic conditions — the companies that buy semiconductors often order them well in an advance. As a result, the industry has traditionally been tied closely to the ups and downs of the PC market, which is in turn sensitive to software releases and other factors including business replacement cycles.
Thank the Consumer
Consumer demand for devices such as flat-panel displays and digital cameras were ahead of forecasts during the key holiday shopping season, said the SIA, citing Consumer Electronics Association data. Digital camera sales in the U.S. alone were up 30 percent in November, for instance.
Signs point to a continuation of the good run.
"The latest Conference Board survey of consumer confidence reflected increasing optimism," Scalise said. "An improving job market and indications of healthy economic growth going forward should contribute to stronger demand for semiconductor products, which are increasingly driven by consumer electronic purchases."
The strongest performers during the first 11 months of 2006 were digital signal processors, or DSPs, used in high-end TVs and other applications, sales of which were up 12.3 percent; DRAM (dynamic random access memory), which grew 6.8 percent in sales volume; and flash memory chips, which were up 6.3 percent. In addition, core microprocessor sales were up 4.3 percent.
Inventories, another closely watched data point, are "in line with current demand," Scalise noted, adding that some memory products, including flash, are seeing "tight supplies."
The industry group is sticking with its forecast of 9.4 percent growth for all of 2006 and said it expects growth of 10 percent for 2007.
"2007 is shaping up to be another good year for the industry," Scalise observed.
Mixed Bag for Chipmakers
Although the industry is experiencing overall growth and record sales levels, the news has not been as good for some individual chipmakers.
For example, Texas Instruments recently warned that sales were sagging in some chip lines, citing consumer appetite for lower-end phones over those laden with features and a higher price tag.
Intel saw its relative market share fall during 2006, though it remained in the top spot worldwide, according to research firm Gartner. AMD gained significantly, in part thanks to its purchase of graphics chipmaker ATI.
In 2006, wireless chip sales helped replace flash memory sales as the main growth driver from the year before, noted Gartner research director Jeremey Donovan.
Conditions are ripe for additional consolidations, he pointed out. Chipmakers will likely try to increase their exposure in more areas of the semiconductor market as a hedge against slowdowns in individual product categories.
Meanwhile, longer-term clouds are forming over the current bull run. Gartner recently revised its long-term forecast to show a dip in the industry by 2009, as consumer demand begins to sag without a strong surge in PC sales to pick up the slack.