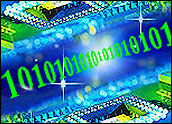 Semiconductor sales hit record levels in August, with US$20.5 billion worth of the chips being sold worldwide, according to a report released Monday.
The Semiconductor Industry Association (SIA) said semiconductor sales rose 10.5 percent in August compared to a year ago, when sales hit $18.6 billion. Sales were also up month-to-month, rising 2.1 percent from July of 2006, when revenue from semiconductors reached $20.1 billion.
The $20.5 billion level for August edged out the previous high-water mark of $20.4 billion, set in November of 2005.
"Once again we saw relatively strong sales across a very broad range of semiconductor products, which reflects healthy end markets," said George Scalise, president of the SIA.
Scalise noted that overall revenue growth remains strong even though prices of some types of chips have been driven down by strong competition, with average selling prices for microprocessors, for instance, down 18 percent from a year ago.
The report did show higher inventory levels than in the recent past. While that can be a worry for the industry at times — suggesting slowing demand from computer makers and other end-users — Scalise said the inventory build is in line with traditional second-quarter trends, when device makers stock up on chipsets in order to ensure adequate supply during the heavy fourth quarter and holiday seasons.
Phones, PCs Drive Growth
The fastest-growing sector was DRAM (dynamic random access memory) chips. Sales rose 7.5 percent in August from the month before and some 31 percent over the year before. DRAM is found in PCs, where it is used to manage applications and temporarily store information.
Also selling well were the types of chips used in consumer applications such as mobile and smartphones, other hand-held devices and home electronics. NAND flash chips sold well, a sign that "manufacturers began gearing up for the holiday season," according to Scalise.
He attributed the surge in sales to the overall economy, with consumer confidence boosted by falling energy prices. "The worldwide industry now derives more than 50 percent of its sales from the consumer market," he noted.
The SIA cited data from VLSI Research showing that chip makers were using 92 percent of their total capacity in the second quarter of 2006, while predicting that level will remain around 95 percent for the rest of the year. Capacity utilization measures how busy chip-making fabs are. High levels indicate particularly strong demand now, with many chip makers bringing new 300mm manufacturing facilities on line to supplement older facilities.
Sales in the Americas recorded the most growth on a month-to-month and annual basis, with sales in Europe and Japan lagging somewhat.
New Groove
The notoriously cyclical semiconductor industry has been on a sustained growth run, one fueled by the shift of end-uses of the chips from mainly computers and servers to a host of consumer devices. Some analysts predict the industry is changing entirely, moving away from a cycle-sensitive industry to one that can weather downturns in tech spending by businesses by selling more consumer-focused products — and vice-versa.
Earlier this year, evidence of that shift prompted the SIA to revise its yearly forecast for chip sales for all of 2006. The group now estimates sales will come in at around $226 billion for the year, which would represent a record level.
In addition to a solid PC market, Gartner analyst Alan Brown said the booming worldwide mobile communications marketplace is driving chipset sales.
"Handset makers will produce and sell 1 billion handsets in 2007," Brown noted. That in turn will generate more than $47 billion worth of mobile chip sales. "Phones are adding functionality and newer phones demand more and better chips that will only add to demand," he added.
That trend appears to be able to sustain itself as newer mobile technologies drive demand for next-generation handsets, and as emerging markets such China, India and Latin America demand millions of new phones each year.
The SIA's Scalise said that in many electronic devices, up to 40 percent of the total cost is now attributable directly to the chips and related technology powering them.