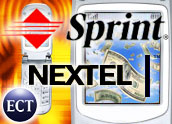 Sprint Nextel announced the layoffs of three top executives on Thursday, continuing the company's restructuring as it attempts to bolster its sagging financial situation.
The three executives — Chief Financial Officer Paul Saleh, Chief Marketing Officer Tim Kelley and Mark Angelino, president of sales and distribution — will leave the company on Friday. The positions will be filled internally on an interim basis, said recently hired CEO Dan Hesse. William Arendt will serve as CFO, John Garcia will serve as the CMO and Paget Alves will serve as the president of sales and distribution.
The three interim appointees will act as a bridge while the company continues to examine its entire business.
"Permanent leaders will be named in conjunction with a review of overall strategy and an effort to streamline operations," Hesse said. "I have no predetermined time frame in filling these positions but plan to act quickly as possible as I consider both internal and external candidates."
Winds of Change
The moves come as Sprint Nextel — which hired Hesse in December — attempts to plug holes in its business.
In the last financial quarter, the company reported that it lost 109,000 subscribers to rivals such as AT&T and Verizon Wireless. Seeking to offset some of that financial loss, Sprint Nextel last week announced it would cut 4,000 jobs, close 125 of its retail outlets and shutter 4,000 mini-stores that sell its mobile phones and plans.
The Future Is Now
The issue at hand for Sprint Nextel is finding executives who have experience overhauling businesses on the fly, said Terence Gallagher, president of Battalia Winston Amrop Hever, a New York-based executive search company. Consumers have very little brand loyalty with wireless providers that have a poor service history.
The company now must focus on a short-term, one-year plan and a longer, three-year plan, Gallagher told the E-Commerce Times.
With the rate of churn driving down the company's financials, the new executive team will have to focus on short-term fixes to the service — which should help shore up its customer base — while also rolling out new services that are competitively priced and equally reliable.
"In essence, they must change the tires while the car is racing around the track, meaning they must grow revenues, cut costs, enhance product quality and re-brand the company simultaneously," Gallagher said. "This will be a significant challenge [for] Dan Hesse."