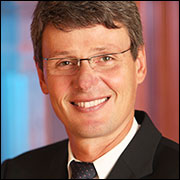 Times are changing for BlackBerry.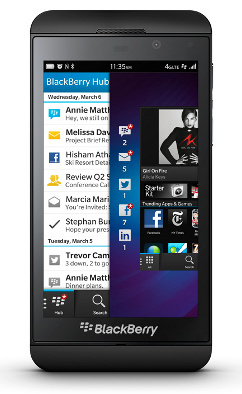 BlackBerry Z10
The BlackBerry Z10 smartphone, which runs the new BlackBerry 10 operating system, has finally hit store shelves in the U.S. What's more, BlackBerry CEO Thorsten Heins has been taking swipes at Apple — and no one is laughing in utter disbelief.
Had Heins suggested a year ago that Apple needed to step up its innovation or it would be left behind, the Internet may have crashed due to the masses of people logging on to express their scorn. Although Apple still has its legion of fans and it is still the U.S. market leader, there is now more than a glimmer of doubt about its invincibility. And here comes BlackBerry with a device built to take on the iPhone.
As the battle for smartphone market share enters a new phase, industry analysts, vendors and mobile users all are eagerly watching to see if the once-dominant BlackBerry can claw its way to No. 3. Some are watching the executive who brought BlackBerry to this place with equal interest.
Taking Control After the Storm
When Heins took over BlackBerry's helm a little over a year ago, he was faced with the wreckage caused by the relentlessly poor, stubborn decision-making of former RIM coCEOs Mike Lazaridis and Jim Balsillie. There was a lot of speculation that he would merely lead the company into a buyout.
He was described as "boyish." There was little analysis of his management style or vision. Now that BlackBerry is starting to look like a contender again, he's getting a second look.
Thorsten Heins is showing himself to be more than the caretaker of a weak and perhaps dying BlackBerry, Bruce White, professor of computer information systems at Quinnipiac University, told the E-Commerce Times.
He apparently has taken to heart the saying, "sometimes the best defense is a good offense," White continued, referring to Heins' criticism that Apple and the iPhone are "too 2008." What Heins did was plant a seed: Could the new Z10 be a better phone than the iPhone? Could the user interface be better on the Z10 than on the iPhone?
"While Apple has made improvements and new models, up to the generation-5 iPhone, the user interface and the basic processing are about the same as the first iPhone," noted White.
Meanwhile other providers such as BlackBerry and Samsung have not been idly sitting around.
"Heins suggests that better hardware, better software and improvements are available to users with the new Z10 Blackberry," White said. "That is a strong statement."
More of the Same
Of course, BlackBerry has not completely abandoned its roots.
"Thorsten Heins has come to understand that for BlackBerry to stay relevant, they need to refocus on what they've always done best, and that is enterprise messaging and productivity solutions," said Andrew Till, SVP of smartphones and connected devices at Symphony Teleca.
Furthermore, "the BB10 platform is fast and can compete with any of the OS platforms that are out there today — and their attention to detail geared toward a mobile consumer is what will enable the company to regain its position in the market."
Can the Z10 Hold Its Own?
Much of BlackBerry's fate rests on the Z10. The company has done what it could to suggest to the world that it has changed, but consumers will be the ultimate arbiters of that.
So far, the device has done well in the UK, Canada and India, "although we need to see if those initial sales numbers can be sustained," Andreas Scherer, managing partner at Salto Partners, told the E-Commerce Times.
BlackBerry has a fighting chance with the Z10, he added. "The turnaround isn't over though. It's more like the beginning of the third round in a championship fight."