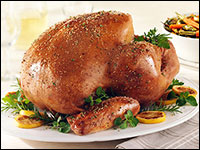 Stick a fork in the sacrosanctity of Thanksgiving — it is done. A number of retailers, most famously Walmart, will be opening their doors on Thanksgiving Day, on the premise that they will be scooping up sales from consumers too eager to wait for Black Friday. Whether that is true or whether so-called Gray Thursday will cannibalize sales meant for Black Friday and Cyber Monday is yet to be determined.
What is certain is that the time period in which consumers can score incredibly low-priced deals has expanded to include Thanksgiving Day. Indeed, the only question for consumers is how strategic should they be with their shopping.
Will the best doorbuster savings be offered on Thanksgiving or is it safe to wait for Black Friday? Will Cyber Monday hold true to its reputation of being the best day to shop online or will that theory be retired, along with the notion that consumers wait until they're back at work to access high-speed Internet and go shopping.
These days, many consumers have high-speed at home — and significant numbers don't even bother with wired access but shop from their smartphones instead.
Low Prices vs. Supply
Since Gray Thursday is a relatively new phenomenon, it is hard for bargain hunters to rely on trends from past years. There is plenty of guesswork out there, though.
One view is that it's unlikely deals will dramatically change from day to day.
"I think midnight Thursday prices will be the same on Friday," Follett Carter, an adjunct marketing lecturer at the University of Michigan, told the E-Commerce Times. Supply, however, will be a different matter entirely.
The biggest wildcard for pricing is online, Carter said, noting that for online retailers, "that is their only differentiator."
Long Lines
Black Friday is not just about supply and price. It's also about lines — long lines, in many cases.
After analyzing 2 billion check-ins, Foursquare found that the peak time for shopping on Black Friday was 2:00 a.m. It also found that superstores had the shortest lines at 6:00 am.
Secret Gray Thursday Bargains?
Although there has been much justified grumbling by retail employees who have to work on Gray Thursday, consumers seeking bargains might want to consider shopping that day, despite the deals that will still be available on Black Friday and the rest of the weekend.
What a lot of consumers don't realize is that many retailers do not advertise pre-holiday sales on Gray Thursday, said Melanie St. Jean, a fashion and retail professor at Johnson & Wales University.
Instead, they have unadvertised in-store promotions.
"These promotions test the buying patterns of consumers looking to do early shopping and [avoid] the crowds on Friday," she told the E-Commerce Times.
Black Friday will still be very important for both retailers and consumers. Retailers also have purchased special deals at limited quantities to test the buying patterns of consumers, noted St. Jean. "These limited quantities are usually on big-ticket items where the minimum buy would not be as big as, say, soft lines. Therefore you will see pricy electronics being marked at lower than normal discounts."
In other words, these stores will not take a large markup on goods but rather see the offers as important because they draw shoppers through their doors. This is largely done in stores where multiple purchases can be made, such as Target, Walmart, Sears and Best Buy, St. Jean said.
As for Cyber Monday, this year sales will be bigger than ever, she predicted, largely due to consumers showrooming on Black Friday and throughout the weekend. Then they will shop online for a better price, whether from their offices, their homes or their smartphones.