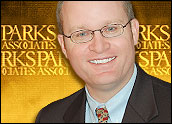 I still enjoy flying. This statement may seem anachronistic these days, with all the air travel delays, security screening hassles and wild-eyed rudeness that one does tend to experience from a few fellow travelers.
However, for me, there's still something fun about going to the airport, traveling to a (sometimes) interesting location, and even the small thrill of the acceleration during takeoff.
These days, flying is actually a bit of a refuge for me, some "me time" where I'm not Internet connected and I can catch up on my reading. Between the job and a toddler at home, well … let's face it … weeks sometimes go by before I can get to my two subscriptions, Sports Illustrated and Newsweek.
So, upon leaving on my latest trip a few weeks ago, my packed materials included seven magazines dating back to the beginning of February. The flights gave me an opportunity to get through each of them and catch up on some news and analysis. Whoa! The Colts won the big game? Britney and Paris have been acting badly? The NASCAR season started?
'Why TV is Better Than Movies'
It was the last magazine in the pile, the February 26 edition of Newsweek, that is my muse today.
Tucked near the back is a great piece from Devin Gordon titled "Why TV is Better than the Movies," and it provides good fodder for discussion about the changing nature of the content business, particularly movies and television, in the age of the Internet download.
Gordon's article focuses on how television has become a new avenue for the type of creativity in writing, acting and production that typically only marked the Hollywood blockbuster.
Referencing such shows as "Rescue Me," "The Office," "Lost," "Ugly Betty," "The Sopranos" and "The Wire," the author's bold statement is that "television is running circles around the movies."
One Industry, Two Approaches
Although Gordon says television and movies are both facing similar threats (highly fragmented audiences, the challenge of the Internet as an alternative distribution source and stagnation in the revenues derived from such traditional sources as DVDs and prime-time television advertising), the two camps are reacting in two very different ways.
"But while the major film studios have responded by taking shelter beneath big-tent franchises, the TV industry has gone the opposite route, welcoming anyone with an original idea. The roster of channels has ballooned into the hundreds, creating a niche universe where shows don't need to be dumbed down in order to survive (because the dummies have their own channels)."
Gordon notes that TV is now challenging movies on their own turf "narratively and visually — and winning." In other words, television writers and producers are leaning heavily on their ability to keep viewer interest week after week with well-written and well-acted stories "slowly, carefully and with exquisite detail, putting viewers inside the experience of another person with unparalleled intimacy."
At the same time, the Hollywood movie studios, Gordon notes, plan simply to milk as much money as they can out of franchises such as "Spider-Man," "Shrek," "Pirates of the Caribbean" and "Die Hard."
"If this list excites you," writes Gordon, "you're probably a 12-year-old."
Although Gordon writes broadly about the current status of television and movie production (and we can all agree there are both some really innovative and interesting films as well as some pretty poor television shows these days), his article resonates with the notion that movie producers are stuck in an outdated business model, where the goal is to drive as many people as possible to the first weekend of a showing, and are clinging onto a notion of exclusivity.
If you look at the process and sequence with which movie rights are allocated (theater, hospitality, DVD, pay-per-view, broadcast, etc.), you'll see Hollywood still holds rather strict tenets when it comes to who gets to view what and how.
Although the major studios are experimenting with digital downloads and considering such radical moves as "day and date" release (having a DVD and/or a digital download available on the same day as a movie opens in a theater), not much has occurred as of yet to spur alternative viewing in significant ways.
TV's New Thinking
TV, on the other hand, is showing signs of a major shift in business-model thinking. The old thinking for the broadcasters, of course, was to drive as many viewers as possible to a prime-time showing so they could sell advertising at high rates.
For the content producers, the prime-time numbers mattered (so they could charge more for the next seasons), but syndication was also important so that their shows could exist in perpetuity (or something close to it) in reruns.
The new thinking is beginning to recognize the total audience for a show — that is, the number of eyeballs in total that have watched a show live in prime-time, via a time-shifted mechanism such as a digital video recoder, or DVR, through delayed viewing on a broadcaster's Web site, from iTunes or Amazon.com Unbox downloads, and even on a mobile phone — can carry as much significance as the numbers watching the 8 p.m. time slot on Thursday night.
The early results from alternative distribution methods are positive, according to the broadcasters. As of yet, there are no indications that the online availability of certain TV shows is cannibalizing from prime time.
In addition, the broadcasters are reporting good findings with advertising associated with the online content, including a high willingness to view ads and higher ad retention among viewers.
We're not ready as of yet to advocate a complete overhaul of media distribution and business models, but Hollywood and the television producers may be beating us to the punch.
A major shift in the way that television audiences will be measured is underway, as the networks are seeking much more granular information about the size and makeup of their television audiences.
As television and advertising become much more interactive formats, it will be important to be able to determine which programs and ads are generating viewer feedback and interest. This will be a major improvement on the very static audience measurement that has taken place up until now.
Distribution Sea Change
One of the more dramatic changes that we anticipate is in the way that content is produced and distributed. This shift will be very dramatic with television programming, at least initially. We're already seeing this occur.
For example, many of today's prime-time staples offer additional video clips as teasers on the broadcaster's Web site. Additionally, some content producers are looking at mobile video as a way to draw and retain an audience to a prime time episode.
"The Lost Video Diaries," a mobisode series spinoff of "Lost," is one example of content created exclusively for viewing on a mobile handset, and it allows the producers to create less-expensive but at the same time compelling clips that allow the audience to connect with more obscure characters or plot lines.
As television continues its creative renaissance, the ideas of total audience and platform-specific content are going to grow in importance. As advertising spending continues to shift from traditional platforms such as the television to the Web and mobile platforms, producers and broadcasters will have a unique opportunity to attract ad dollars in a different way.
A content strategy that pushes the "three-screen" approach (TV, Internet and mobile device) may also prove to be a boon to traditional service providers (cable, satellite and telco) who can offer exclusive content to lure new customers.
As television programming continues to evolve in edgier ways, complementary content is likely to help attract new viewers every week.
Although the two events may not be related, NBC Universal notes that viewership for "The Office" actually increased after shows were made available for download from the iTunes Music Store.
A similar trend may continue with other types of TV programming. A viewer who may initially shy away from a particular program may be brought into it via a short clip viewed elsewhere. Perhaps more powerfully, video that is shared by a friend or family member may prove to be a significant driver for building prime time audiences.
---
Kurt Scherf
is vice president and principal analyst for
Parks Associates
.
---