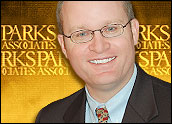 Broadband penetration has increased — over the past three years, the UK, Italy, Spain, Germany and France have added roughly 50 million new broadband households — and brought social media usage up along with it. Currently, almost 40 percent of broadband households in those countries use a social networking site at least monthly.
Our Global Digital Living II project also found Western European broadband households harbored a strong propensity to send instant messages (from 87 percent of broadband households in Spain to 63 percent of broadband households in France and Germany) and read blogs (from 81 percent of broadband households in Italy to 51 percent of broadband households in Germany).
Also, 30 to 45 percent of broadband households in Europe regularly send e-mails from a mobile phone. This cross-platform activity is the result of the strong adoption of mobile broadband in Europe and the widespread availability of mobile services.
Differing Adoption Levels
That being said, regional differences make it difficult to offer broad, pan-European statements about the potential for social networking. For one, Spain and Italy have active social media populations, while the French are among the least-active social networkers. Differences in adoption levels are the result of several factors:
Advertising spending on social media in specific countries
Availability of the local versions of the early social networks such as MySpace in specific countries
Emergence of region-specific alternatives, such as Bebo in the UK
Diverse social and cultural preferences
To further complicate matters, many social networking users in Western Europe report using more than one social networking site. In the UK, Spain and Germany, the majority of frequent social networking users are on more than one site. Usage can cross borders with relative ease, given that social media in general is unlicensed. Unlike Hulu or iTunes (which are not available in Europe), most of the social media platforms are accessible from anywhere in Western Europe. Furthermore, the largest players — MySpace, Facebook and YouTube — have local presence in specific European countries. These usage trends can make it difficult to monetize ad-supported business models in Europe.
Complications and Opportunities
Brands within a specific country are mostly interested in serving ads to the citizens of that country. For example, a UK supermarket or car dealership advertising on Bebo is interested only in UK visitors. While this need naturally limits the total addressable market for the advertiser to the Internet population of a given country, there is the added complication that users are moving between sites and platforms in their social-media activities.
These habits do open new service opportunities. Within the spectrum of social media, one aspect of cross-platform usage was using the PC while simultaneously watching TV. Oftentimes this activity comes as a result of interest in something on the television, indicating European households could be receptive to widgets or some other Web-like informational application on the TV. This finding gives good consumer grounding for applications that extend Web applications to traditional video screens, which is currently a hot trend in consumer electronic design and marketing.
To the problem of fragmentation, with so many consumers using multiple social networks, this market could offer an opportunity for a unified consumer identity, such as MySpaceID or Facebook Connect. This tool could be useful both for consumers, as a means to help organize their increasingly fragmented digital identities and activities, and for advertisers, as a means for them to connect with individual consumers across different social networks.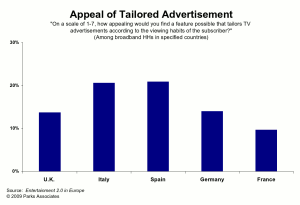 (click on image to enlarge)
Targeted Advertisements
Furthermore, broadband households in Western Europe are starting to show some interest in — or at least acceptance of — targeted advertising strategies. Over 20 percent in Italy and Spain see the appeal of tailored TV advertising, while households in the UK, Germany and France were less enthusiastic as a whole but still show modest interest levels.
These results show the beginnings of an opportunity to craft relevant, ad-based strategies that complement the array of connected services currently under development. Consumers are interested in new cross-platform services, and they are willing to adopt new ways to pay for these services, which could help realize a more direct, granular approach advertisers have always wanted. The key is relevancy — i.e., having an intelligent solution that can serve up relevant search results along with ads that would actually interest that specific customer. Again, broadband offers the pipe that could make it all happen.
---
Kurt Scherf
analyzes technology-driven products and services for
Parks Associates
. He has authored over a dozen industry reports on topics such as broadband adoption, ISP bundling strategies, mobile phone service, digital music, and VoIP telephony.
---