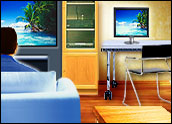 In the U.S. market, the percentage of broadband households owning and connecting at least one product besides PCs to the Internet has increased 45 percent between 2010 and 2011. Today, approximately 40 percent of all U.S. broadband households own at least one Internet-connected device, with game consoles accounting for 75 percent of these products. The increase in the adoption of these technologies offers manufacturers, pay-TV providers, advertisers and content owners new revenue and growth opportunities.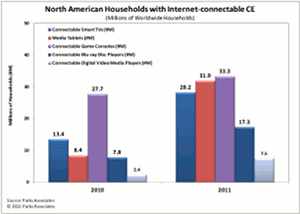 (click image to enlarge)
Even more important to recognize is the shift in consumer behaviors.
These devices will continue to complement and replace some traditional methods of search, video-centric activities and advertising.
For example, 30 percent households with an Internet-connected CE used the device to rent at least one movie in the past month. Approximately 35 percent of mobile phone owners use their phones to look up listings while watching TV.
Smart TVs are high-definition televisions with embedded technology that allows them to connect to online content sources.

Nearly 20 percent of U.S. broadband households own a smart TV. To date, a primary use of smart TVs has been to access movies and television shows from services such as Netflix, Amazon and Best Buy's CinemaNow. There are also a growing number of apps available for smart TVs.

Connected Blu-ray players offer consumers Internet connection features similar to those found on smart TVs but at a lower price. In addition to serving as an online content access portal, connected Blu-ray players will play a substantial role in helping consumers create digital locker versions of their existing collections of disc content.
Connected game consoles include current-generation game consoles such as Microsoft's Xbox 360, Nintendo's Wii and Sony's PlayStation3. They have set an example for the entire consumer electronics industry about how the availability of premium content can develop into a service model. The console manufacturers successfully combined access to thousands of movies and television programs and original programming with gesture-based interaction and set-top box capabilities, and many consumer electronics manufacturers are now emulating this approach.
Digital video media receivers that can access online video and other content divide into two categories:

Products such as Apple TV and the Roku Video Player, which are intended to provide a premium video-on-demand service
Others that link to broader online video content, including user-generated and niche video sites such as Blip.tv, Break.com and Dailymotion, among others

The introduction of the new adapter boxes supporting Google TV 2.0 has spurred developers of digital video media receivers to evolve their form factors, available content, and product usability.

Apple's iPad launch in April 2010 reinvigorated the media tablet CE category. While Microsoft, IBM, Apple and others had launched tablets prior to the iPad, these products were generally conceived as computing products or message pads, and consumer uptake was dismal. The iPad found a much more enthusiastic market primarily due to two factors:

The iPad was designed for multimedia consumption rather than productivity
The consumer market had been primed by the success of smartphones and e-readers

Since 2010, two types of media companies have spearheaded TV and video content distribution on tablets. Over-the-top (OTT) media publishers and their distributors and multichannel TV service providers (i.e., cable MSOs and telcos) both view the tablets as a new channel for their video multiscreen strategies. In addition to its role as a TV Everywhere receiver, the media tablet is spurring growth in online video-on-demand such as downloadable movies.
New Considerations for Apps
Unlike the tablet and smartphone market, where Apple's competitors have primary used the Android operating system and applications platform, many variants exist in the connected consumer electronics market. There are opportunities for a variety of players. Factors that will differentiate connected CE operating systems and application platforms in the long term include the following:
How effectively they can grow their developer partners to bring applications to the market in an efficient manner. The way in which applications get accessed and used in the smart-TV environment will be similar to the smartphone and tablet market. That is, manufacturers don't really know how popular a particular application will be (i.e., "Angry Birds") until after it is launched. Apps platform developers need to lower the barrier of entry and time to market for apps developers by having an open software developer kit (SDK) offering and streamlining the process to make the app publicly available.
Seamless ties between smart TV apps and portable and mobile products such as tablets and smartphones. This factor won't be a requirement with every application, but there will be experiences that consumers will want to share across devices. Games tied to television programming are good examples, such as a "Dora the Explorer" treasure hunt game, promoted on the show and played on a tablet. Apps platform developers should look to develop ties to premium content owners to bring high-quality content, gaming, information and advertising across devices.
Convincing premium content owners that their content will be used to create additional value. Google's challenge to date has been that premium content providers don't trust it to share advertising revenues from their video fairly. At the same time, Yahoo has been gaining content partners; most recently, it announced that ABC and Disney content will be accessible on its platform on select smart TV brands. Yahoo has been able to attract premium content owners by demonstrating solutions such as broadcast interactivity, where programming displayed on the television is synched to complementary content — advertising, information, etc. — either on an on-screen widget or a mobile device.
Implications for the Pay-TV Market
The connected CE market presents both a challenge and an opportunity for traditional pay-TV providers. These connected devices create for consumers retail-based alternatives to multichannel offerings, video-on-demand, and DVRs, but they are present pay-TV operators with the opportunity to extend TV Everywhere services. They benefit operators by reducing the number of set-top boxes needed per home and opening opportunities to deliver a more personalized video service, thus raising customer satisfaction.
Multiscreen and TV Everywhere services offer several business model options that service providers may employ:
Video subscriptions (either for free to current video subscribers or for a recurring fee)
Broadband subscriptions (either for free to current broadband subscribers or for a recurring fee)
Free for all online
Advertising
Second-Screen Interactivity and a Personalized Advertising Experience
Second-screen integration, which allows service providers to provide integrated ad campaigns across multiple screens, opens up a new path to reach and engage audiences anytime, anywhere, and on any device. Advertising on multiple screens expands the overall ad audience, allowing higher rates due to the larger number of eyeballs watching each advertisement and the higher level of interactivity. The ability to measure the impact of advertising across different devices will lead to a more personalized and targeted advertising experience.
Two-screen synergies are important to advanced TV and connected TV development because they can turn TV from a passive experience into an engaging one. Major advertisers and content owners are focusing on automatic content recognition solutions that will populate the smartphone or tablet with information and advertising complementary to the programming viewed on the television. This development will be a significant step forward in providing more personalized advertising environments.
Approximately 30 percent of U.S. mobile phone users and 40 percent of tablet owners use their device to look up info about the program they are watching or products and services they have seen advertised.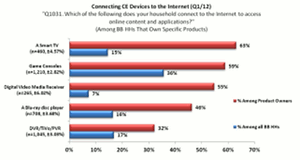 (click image to enlarge)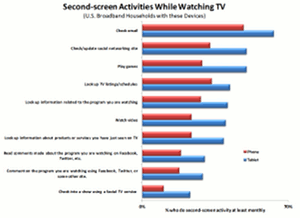 (click image to enlarge)
User Interfaces
As smart TVs and other connected CE offer more apps and online content, their user interfaces (UIs) are evolving to allow for user-customization and better organization of apps by genre. One example of customization is the ability to present a specific interface to individual users based on their learned preferences.
LG Electronics and Samsung were among the first to demonstrate refreshed UIs at the 2011 International CES.
Sharp demonstrated Smart Central, available on TVs 60 inches and larger.
Toshiba has also updated its user interface — called "MediaGuide" — using Rovi's TotalGuide. The TotalGuide solution incorporates features like a program guide, program information, search across multiple content sources and recommendation.
As connected consumer electronics take on an ever-increasing gateway role for multiple types of content and services, the ability to provide recommendations becomes increasingly important. Content owners and advertisers in particular will benefit from the ability of a connected device to suggest content or marketing information based on a viewer's habits, demographic information or contextual information about a currently playing program.
Gesture and Voice Recognition Create More Immersive Entertainment Experiences
Gesture and voice recognition give providers the ability to offer a unique interface between the viewer and the TV content, with the hope that this interaction will lead to higher customer satisfaction and a higher level of engagement with programming and advertising.
The popularity of Kinect and Siri has spurred CE manufacturers to integrate these new control technologies. Even in this early stage, over 50 percent of U.S. users of Apple iPhone 4S are very satisfied with the Siri voice-command feature, with an additional 21 percent satisfied.
In addition, nearly 40 percent of iPhone 4S owners now want similar voice features for their TVs, indicating these solutions can have crossover appeal among different platforms, from smart TVs to gaming.
At CES, LG Electronics demonstrated a downloadable game (in this case, "Fruit Ninja") in a 3D format played without a controller. This kind of simple and fun interaction with the smart TV encourages more living room-centric gaming, and also generates interest in 3D content, which to date has been sorely lacking.
Parks Associates' "Value of Video: Shifting Consumer Dollars" reveals that only 6 percent of U.S. households own a 3D TV, and purchase intentions are far greater for a smart TV than one with 3D capabilities (by a factor of five times). However, with the introduction of passive 3D glasses that do not require batteries and charging, and are less expensive than the active-shutter glasses so highly prevalent with previous 3D TV models, 3D televisions should sell in greater numbers over the next few years.