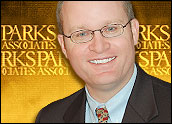 Social networking has left an indelible mark on consumers in terms of the way they connect and interact with each other. Sites such as Facebook are adding users at an incredible rate, and the online dating site Match.com reported good growth in the latter stages of 2008.
Parks Associates has found the percentage of broadband households using social networking sites is about the same across the U.S., the UK, and other major Western European countries. In the U.S., the percentage of consumers using social networking and social media sites will grow from 20 percent in 2008 to 30 percent in 2013.
Social Media
A recent trend in social networks is the growth of social media — with users sharing personal content such as photos and videos. Today, fewer consumers engage in social networking, which requires creating and maintaining personal pages, but their level of engagement with social media is increasing.
This trend is important in the evolution of the social media market because it promotes a higher level of consumer engagement and paves the way for advanced social media advertising strategies, both of which will attract more advertisers to the market.
Monetization Challenges
Bringing in more advertisers is an important step because this market is not being monetized effectively. Consumers are generally reluctant to pay for social media, so companies rely mostly on ad-supported models. However, monetization inefficiencies abound, mainly because brands treat advertising in social media the same as they treat advertising in traditional media, by using the same strategies and the same ad formats. The best social media advertising strategies are diverse, combining a variety of media (video, blogging and gaming) and platforms (PCs, TVs and mobile).
The absence of appropriate measurement metrics also affects advertisers. Traditional online advertising campaigns are measured using the level of user interaction with the ads — click-through rates that report how many times users click a banner. However, there are few metrics today that measure how a user's interaction with social media, such as posting blogs or remixing videos, corresponds with brand awareness, brand lift, or an increase in sales. The metrics that do exist today, such as "views" for online video, are not measured consistently. A lack of uniform metrics complicates determining the return on investment (ROI) for advertisers, thus precluding their willingness to include social media in their advertising mix.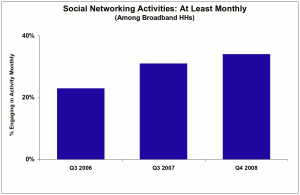 (click on image to enlarge)
Social Media as a Multiplatform Experience
As consumers integrate social media into their everyday lives, they want to augment their experience by accessing media from different platforms, specifically mobile phones and TVs. The most popular activity on the mobile phone remains direct media sharing, such as sending photos to friends. Secondary media sharing, such as visiting photo and video-sharing sites or social networks, is popular as well. Most of the large sites, including MySpace, Facebook, and YouTube, have mobile versions, optimized for viewing on a mobile phone. Mobile phones, especially smartphones, are becoming much more media-friendly as well, offering larger screens for better viewing, more convenient input methods, and cheaper data plans.
Although significantly younger and less developed compared to PC and mobile social media consumption, social media consumption on the TV is gaining in popularity. It allows consumers to augment their entertainment experience by injecting social elements, such as recommendations and live comments, into traditional media consumption. Given the appeal of extended access to social media, the question is not if but when these applications will arrive on connected TVs. Parks Associates' data indicate features that complement search and discovery of programming will be the first to find traction as social-networking-on-the-TV features.
---
Kurt Scherf
analyzes technology-driven products and services for Parks Associates. He has authored over a dozen industry reports on topics such as broadband adoption, ISP bundling strategies, mobile phone service, digital music, and VoIP telephony.
---