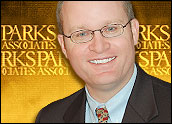 Two different types of media uses are propelling the vision for a connected consumer electronics home. These two concepts — media server and cloud media — increase the value of television as well as other devices by increasing the ability to discover, aggregate, access and display different types of media.
They are two very different scenarios, differentiated mainly by where the content ultimately resides.
The Media Server Concept: This scenario builds off a growing awareness among consumers that they need to protect the massive amount of personal media in the home. The media server addresses the immediate need for a backup solution and can adapt to future demands for a distribution solution as the amount of media grows in size and importance, and as households acquire more devices with network capabilities.
The Cloud Media Concept: This scenario comes out of the concepts of cloud computing and virtualized services. Here, consumer electronics devices retrieve premium content and application services from remote access networks. These services can include entertainment, communications and media from both closed networks (cable, satellite, IPTV) and the so-called over-the-top services riding on top of the open Internet.
Drivers for the Media Server Vision
Today, consumers own a prodigious amount of digital media, both their own (personal photos, homemade videos) and professional content. The number of digital devices in the home is increasing as well — and companies, in response to palpable consumer demand, are designing CE products to perform more and more media-centric functions (e.g., phones have camera functions, portable gaming devices play movies).
Service providers in the U.S. and Europe are rapidly deploying household DVRs (digital video recorders), and consumer are just quickly filling up those hard drives. Usage of online video is an equally significant trend.
As a result, the average household's storage needs for its music, video and photo files will increase tenfold between 2009 and 2013 to exceed a terabyte. Home servers will be able to handle the storage needs of the home, offering backup and protection services. Further, they can serve up this content to non-PC platforms and offer creative and customizable solutions for customers to navigate the content library, thus offering solutions to multiple needs within the home.
Drivers for the Cloud Media Vision
The popularity of online video has created a foundation for new consumer behaviors, with people becoming accustomed to using the Internet as a source of premium content. Already, consumers in North America and Western Europe show strong predilections for on-demand video, both from traditional providers and online sources, which will help to expand Web-based, on-demand services.
Today, the process for acquiring and viewing traditional video-on-demand is relatively straightforward. The consumer places an order, and the movie or program appears immediately on the TV screen. For online video, the home computer is the dominant platform, and the percentage of consumers who have a TV connected to a PC to view Web video is low. However, Web video is coming to TV screens in a variety of fashions.
For the past two years, the consumer electronics industry has touted the concept of Internet-connected consumer electronics that bring the Web video experience to the TV. In the U.S., there are growing numbers of consumer electronics devices and digital media adapter devices providing direct-to-TV Web video experiences. Even more notable are the numbers of devices, including televisions, Blu-ray players, game consoles and photo frames, with embedded Web video collection capabilities. All of these devices seek to take advantage of the huge collections of professional and user-generated (and Web-hosted) content services.
Consumer electronics manufacturers are not the only ones seeking to create new value from Web-connected platforms. Television service providers such as Comcast (Fancast) and Time Warner Cable offer Web video content to their subscribers, and Comcast has plans to bring this content to the set-top box by allowing subscribers to bookmark Web video and then access it from an on-screen guide on any set-top box. In the UK, the BBC iPlayer (which is available to Virgin Media cable subscribers) and the BSkyB Sky Player are two good examples of streaming premium Web video offerings.
Incumbent operators mulled the potential for Web video for several years, and now their current activities indicate they are finally ready to act on this new and growing service sector.
The Emerging Vision of the Whole-Home Network
When considering these two different visions, one question immediately comes to mind: Which one will win? The popularity of Web video would seem to indicate a gradual shift to cloud-media-based scenarios, where consumers — now accustomed to retrieving content from the Internet — get everything from the cloud.
However, this scenario does not fully account for all consumer activities. For one, it does not explain why there is a resurgence of vinyl sales in the U.S. Now that new music is available online and on-demand, why are consumers going out to buy something as big and unwieldy as a record? One theory is that consumers are still interested in owning a product, including the album artwork.
Granted, the economic collapse could reverse this spike in vinyl sales, but the lesson is that ownership matters. Consumers, even young consumers raised on streaming music and peer-to-peer networking, are not all willing to go completely virtual, which means they will still need something on-site to sort and organize their files — something like a media server.
Parks Associates predicts that in the home of the future, one method will not dominate the other — i.e., cloud media versus media server — but instead, an adaptive scenario will evolve, bringing in aspects of both systems, creating a completely new networking ecosystem for the home.
---
Kurt Scherf
analyzes technology-driven products and services for Parks Associates. He has authored over a dozen industry reports on topics such as broadband adoption, ISP bundling strategies, mobile phone service, digital music, and VoIP telephony.
---