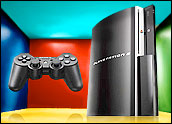 Sony plans to offer a video download service for its PlayStation 3 (PS3) gaming console, Phil Harrison, president of Sony's worldwide studios division, said in a recently published interview.
The media company's long-range vision for the PS3 includes the download, storage and playback of high-definition movies and TV programs.
In an interview with gaming industry publication 1up, Harrison said Sony made a "significant investment" to support the vision of the PS3 as a hub of entertainment content. "It was absolutely the right thing todo," he added.
Sony did not put a time frame on the full availability of the video download service — Harrison's comments may be aimed at sparking sales of the PS3, which, as one of the costliest gaming consoles available, has been outsold in many markets by Microsoft's Xbox 360, Nintendo's Wii and even Sony's own PlayStation 2 (PS2).
Boosting the PS3
According to data from NPD Group, the PS2 console outsold the PS3 in December in the U.S. by a two-to-one margin, emerging as the holiday season's top-selling gaming device.
The addition of a video download option will likely help Sony portray the PS3 as a multifunctiondevice that can serve as the center of a home entertainment system. This could help prompt consumers to pay the console's nearly US$600 price tag.
In addition, the new download service may well compete directly with Apple's iTunes Music Store and that company's ambitions to also become a hub of the digital living room of the future.
Though Microsoft has a head start over Sony, having already rolled out its Xbox Live video service, the PS3 could offer users the ability to purchase video content outright because of the PS3's relatively large hard drive. Sony began building increasingly high-capacity hard drives into the PS3 from the start, with some models providing up to 60 GB of storage space.
Both the Xbox and the PS3 can play DVDs and allow users to go head-to-head with other gamers via the Internet.
Sony has already begun to roll out a service that enables users to download and view movies on its PlayStation Portable, or PSP. This feature makes the PSP more of a direct competitor to Apple's iPod.
Supercomputer on the Cheap
When the PS3 was released last year, Sony's decision to build it using high-end components was met with derision in the gaming community. However, re-looking at the PS3 as a home-media hub could validate Sony's move as well as the unit's expensive price compared to Microsoft and Nintendo offerings.
Buyers of the PS3 have been getting "a supercomputer at entry-level PC price," said iSuppli analyst Andrew Rassweiler. "One of the reason the PS3 is so costly to produce is because it has incredible processing power."