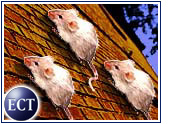 The worlds of e-commerce and online advertising are going through a bit of a phase, it seems.
Experimentation is the name of the game, as e-tailers and others try to break free of "old" formulas in an all-out effort to re-stoke the growth engines that hummed so powerfully for a while.
The problem is what two of these recent experiments have in common: They are intrusive. They are in-your-face. And they are annoying.
The two innovations, if we can call them that, are the X10.com pop-under advertising campaign and the Half.com "Price Patrol." Both foreshadow a much less user-friendly Web experience in the not-too-distant future.
Who Left the Windows Open?
The X10.com story is an interesting one. In what one analyst called an online "carpet bombing," X10.com bought advertising space on the Web's busiest sites, enabling the company to, uninvited, open extra browser windows containing a link to the X10.com's home page. The X10 browser windows open under the browser window the Web user already had open, and whether or not the user clicks on the ad window, X10.com counts the user as part of its Web traffic.
In addition to millions of page views, the tactic has gotten X10.com some free press, which is probably more valuable than the ineffective pop-under ads themselves. Add it all up and you get what advertising industry spin doctors would call a broader palate for advertising online.
Great, except this particular part of the palate happens to involve my computer. Hijacking my browser for X10.com's gain might have gotten the company coverage in the trade press. It might even win X10.com a few new customers. But it sure isn't going to make any friends.
Volunteers Unite
Half.com's experiment which is intended to keep its customers from straying is slightly less annoying because it's voluntary. The company emphasizes this point, of course, as it should. In order to get the "Price Patrol" plug-in, you or I have to download it first.
But once that threshold is crossed, "Price Patrol" is always on duty, advising what's for sale at Half.com. That could get intrusive in a hurry.
Given the confluence of content and e-commerce, I foresee plenty of instances when I might not even be shopping and yet, here comes the Half.com patrol, popping up another browser window to tap me on the shoulder like a Times Square watch salesman.
Just Browsing, Thanks
The most frightening part of the Half.com experiment is that it makes sense and very well might work.
If so, success will only lead to escalation. Half.com's plug-in takes less than a minute to download. The next one will take 30 seconds. Then 10. And then a site will offer to do it for you, just click here.
It's bound to happen, especially if it works well.
Personal Property?
Yes, this is all part of the maturation process for the Web. It's not pretty to watch experiments in progress. And it's even less fun to be one of the little white mice running through the maze.
The problem is that consumers aren't likely to fight back against having their browsers usurped or their surfing time constantly interrupted with commercial reminders. That lack of outcry or action will be taken as tacit approval and the spiral will go around again.
And then one morning, we'll wake up and find the Internet not only isn't the place it used to be, but isn't even a place we want to go anymore at all.
What do you think? Let's talk about it.

---
Note:
The opinions expressed by our columnists are their own and do not necessarily reflect the views of the E-Commerce Times or its management.
---