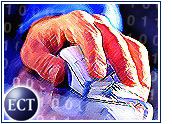 Hoping to prevent customers from straying, and perhaps laying the groundwork for an e-tailer browser war, Half.com launched a price-comparison shopping feature Tuesday that alerts shoppers who click into a competitor's inventory that the item they're looking for is available back at Half.com.
Called "Price Patrol," the feature is designed to alert shoppers looking at books, compact discs, movies, DVDs or video games at other online shopping sites that the same items are available at a better price on Half.com, the fixed-price marketplace owned by eBay (Nasdaq: EBAY).
After shoppers download the program from Half.com, they receive an alert when they click on a product detail page on another merchant's site. Clicking on the pop-up alert takes shoppers to the same item on Half.com in a new browser window.
"The idea is that if a customer happens to click onto another site, they'll get a reminder that we might have that item in stock as well," Half.com spokeswoman Kristin Keyes told the E-Commerce Times.
The software will only work on PC-based computers and for U.S. residents. It is not compatible with Macintosh systems, Half.com's Web site said.
New Stuff Sought
Keyes said Half.com was motivated to offer Price Patrol because even the most loyal Half.com shoppers check other sites for new releases.
If the item is not listed on Half.com, the Price Patrol pop-up window will show the shopper the Half.com home page.
"The customer chooses to download [Price Patrol], so it's not intrusive," said Keyes, adding that the program will be updated to include all of Half.com's new lines of products, such as computers, sporting goods and consumer electronics, by the end of the summer.
Defense Anyone?
Asked whether competing e-tailers might be inclined to find ways to block the Price Patrol feature, Keyes said, "I don't know how other e-tailers might react to this."
Given current trends, the feature is likely to be expanded at some point to include eBay's auction listings, though Keyes said that such a move is not planned in the immediate future.
Price Patrol also appears to pave the way for Half.com to increase its sales of current items as time passes.
"Obviously, Half.com and eBay are looking at every kind of thing that makes sense to integrate," Keyes said.
Integration Pledged
eBay bought Half.com, which currently lists about 15 million items for sale, for US$350 million in stock last June.
eBay chief executive officer Meg Whitman pledged deeper integration of Half.com into eBay when she met with analysts last month, a clear indication that eBay plans to make fixed-price sales a bigger part of its business strategy going forward.
The launch of Price Patrol is the second major initiative kicked off in as many days for eBay. On Monday, the auction giant formally announced its much-anticipated storefronts project.