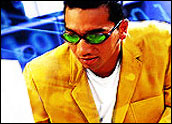 The Internet may offer a new channel for selling merchandise, but basic customer loyalty principles first developed in the real world are still central to making money online, according to many of the e-commerce leaders speaking Tuesday in Chicago at a retail forum hosted by Jupiter Media Metrix.
Companies doing business on the Internet need to focus on "delivering what people want," Jupiter analyst Rob Leathern told the E-Commerce Times. According to Leathern, that includes not only offering the products customers want, but also quality customer service.
The primary message expressed at the forum was that personalizing an e-tail Web site, and the marketing messages it sends out, to match individual e-shoppers preferences can encourage more online spending.
"Personalization is probably going to be the most important thing going forward," said Bill Bass, senior vice president of e-commerce and international for click-and-catalog apparel company Lands' End.
Mailroom Central
Reaching out to individual consumers, via e-mail and regular mail, is also crucial to building customer loyalty and sales, the Jupiter attendees said.
For example, Lands' End has found that online sales peak immediately after the company's catalogs are sent out to customers.
"We love the catalog division," Bass said. "They are our favorite best buddies."
Catalog Contributions
Bass also said it is important to take advantage of each medium's best attributes. He pointed out that catalogs are easier to use and more reliable than a Web site.
"I've never opened a catalog and not had photos show up," Bass said.
The Internet, on the other hand, allows merchants to showcase a large selection of merchandise. E-tail sites also let consumers search for the products they want, Bass said.
On Target
Targeted e-mail is another worthy means to build loyalty. According to David Kleinberg, senior vice president of marketing for Digital Impact, the more targeted the mailings are to particular e-shoppers, the higher the response rate is.
Unfortunately, although some consumers are willing to provide personal information, others want to be left alone.
"The biggest barrier is that most people don't want a relationship with me," Terrance Finley, president of Booksamillion.com said.
Tell A Friend
Word of mouth is also proving to be a tremendous marketing tool, the attendees said. David Liu, president and chief executive officer TheKnot.com, said that 40 percent of traffic to the online wedding planning site comes through referral.
Peapod.com president and CEO Marc van Gelder agreed that word of mouth is important, saying that Peapod, which offers consumers US$20 off an order for referring a friend, believes its most loyal customers are those acquired via referral.
Whoa Wireless
According to Bass, despite the current hype about wireless applications, Lands' End decided that a wireless initiative would not help the company because wireless technology was not conducive to selling Lands' End merchandise.
"Computers are much better for most of the shopping you want to do," Bass said.
"Intellectually titillating" sales models, such as auctions and volume sales models where consumers get a lower price by pooling their purchases, are also not on Lands' End's agenda, Bass said.
Barrier Jumping
Even if Web merchants are wise to follow basic sales principles developed in the brick-and-mortar world, they face special sales barriers found only on the Net.
For example, most consumers log on to the Internet only to make intended purchases, Jupiter analyst Heather Dougherty told the forum. Dougherty said that reaching consumers early in the purchasing cycle could help overcome that barrier.
Another barrier to Internet-based sales is that most consumers only visit a limited number of e-tailers each month. Jupiter found that during the first quarter of 2001, consumers visited an average of 4.2 e-tailers per month.